Menthone®
Naturelle - Synthétique
CAS N° :
89-80-5
Herbal > Minty > Icy > Fatty > Earthy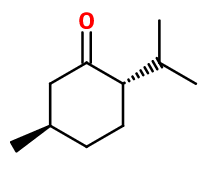 Crédits photo: ScenTree SAS
Other names :

5-methyl-2-propan-2-ylcyclohexan-1-one ; Para-menthan-3-one ; 5-methyl-2-(1-methylethyl)cyclohexanone ; 2-isopropyl-5-methyl cyclohexanone
Volatility :

Head
Uses in perfumery :
Natural availability :

The natural production of Menthone® can be made from a dementholised Corn Mint EO (see L-Menthol).
Year of discovery :

Data not available.
Other comments :
Price Range :

€€
Stability :

Stable in perfumes and diverse functional bases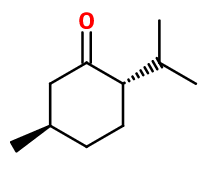 Crédits photo: ScenTree SAS
Molecular formula :

C10H18O

Molecular Weight :

154,25 g/mol

Density :

0,895

Flash Point :

79°C

Fusion Point :

-20°C
Appearance :

Colorless liquid

Log P :

3,05

Boiling Point :

209°C

Detection Threshold :

170 ppb (0,000017%)
Synthesis route :
Synthesis precursor :

Menthone® is a precursor to the synthesis of Menthol by catalytic hydrogenation, forming NeoMenthol and Menthol.
Isomerism :

Menthone® is a mixture of two pairs of dextrorotatory and laevorotatory isomers: Menthone® and Isomenthone. Isomenthone has a more moldy smell than Menthone®. These two enantiomers have a strong tendency to interchange, making it difficult to separate them from synthetic Menthone® or from an essential oil. In the synthesis of Menthone®, the isomers of the molecules can be selected by changing the synthesis conditions or the starting reagent (for example, dehydrogenated or oxidized L-Menthol gives a mixture of L-Menthone® and D-isomenthone). Linalool, Nerol, Geraniol and Terpineol are some of the constitutional isomers of Menthone®. Nevertheless, they have a much more floral or terpenic smell, far from the frosty mint note of Menthone®.
EINECS number :

201-941-1

FEMA number :

2667

JECFA number :

429

FLAVIS number :

07.176

Allergens :

This ingredient does not contain any allergen.

IFRA :

This ingredient is not restricted
To learn more about IFRA's standards : https://ifrafragrance.org/safe-use/library
ScenTree is solely responsible for the information provided here.