Thymol
Naturelle - Synthétique
CAS N° :
89-83-8
Herbal > Agrestic > Grassy > Leather > Animalic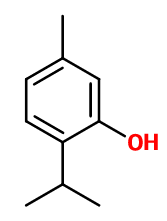 Crédits photo: ScenTree SAS
Other names :

5-methyl-2-propan-2-ylphenol ; Apiguard ; Para-cymen-3-ol ; Alpha-cymophenol ; 3-para-cymenol ; 3-hydroxy-para-cymene ; 3- hydroxy-1-methyl-4-isopropylbenzene ; 5-methyl-2-(1-methylethyl)phenol ; 5-methyl-2-isopropyl-1-phenol ; 5-methyl-2-isopropylphenol ; Isopropyl cresol ; 2-isopropyl-5-methylphenol ; Thyme camphor
Volatility :

Heart/Base
Uses in perfumery :

Thymol is used in thyme reconstitutions and in aromatic notes.
Natural availability :

Thymol is the major constituent of Red Thyme EO and is present in Oregano EO. It can be extracted from these two raw materials.
Year of discovery :

Data not available.
Other comments :

Data not available.
Price Range :

€€
Stability :

Stable in perfumes and diverse functional bases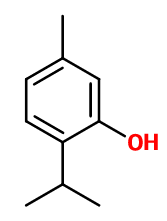 Crédits photo: ScenTree SAS
Molecular formula :

C10H14O

Molecular Weight :

150,22 g/mol

Density :

0,965

Flash Point :

101°C

Fusion Point :

50°C
Appearance :

White solid

Log P :

3,3

Boiling Point :

233°C

Detection Threshold :

86 à 790 ppb (0,000079%)
Synthesis route :

Thymol is synthesized by an ortho-alkylation process of meta-Cresol with propylene, in the presence of aluminum oxide. This synthesis must be carried out at high pressure and temperature. The reaction is not total, the rest of the reagents are separated from the mixture by a fractional distillation at the end of the reaction.
Synthesis precursor :

Thymol is a precursor to L-Menthol synthesis by catalytic hydrogenation under high temperature and pressure.
Isomerism :

Ortho-Thymol, also called Carvacrol, has to be distinguished from para-Thymol, also called para-Cymen-5-ol. Both are Thymol isomers and do not share the same smell. L-Carvone and Dimethyl Benzyl Carbinol are some of the constitutional isomers of Thymol. Their smell is however very different, as it is more minty or floral-fresh.
EINECS number :

201-944-8

FEMA number :

3066

JECFA number :

709

FLAVIS number :

04.006

Allergens :

This ingredient does not contain any allergen.

IFRA :

This ingredient is not restricted
To learn more about IFRA's standards : https://ifrafragrance.org/safe-use/library
ScenTree is solely responsible for the information provided here.