Nerol
Naturelle - Synthétique
CAS N° :
106-25-2
Floral > Rosy > Geranium > Metallic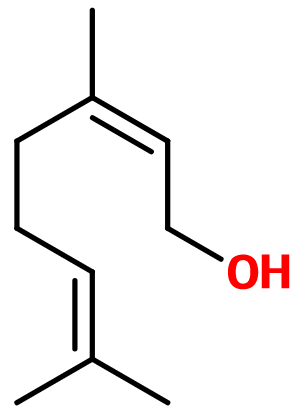 Crédits photo: ScenTree SAS
Other names :

(2Z)-3,7-dimethylocta-2,6-dien-1-ol ; Neraniol ; Nergenol ; Nerodol ; Nerolex ; Nerolo ; Nerolol ; Neryl alcohol
Volatility :

Heart
Uses in perfumery :

Nerol is used in rose, geranium, orange blossom and verbena notes.
Natural availability :

Nerol is present in many natural products, often accompanied by Geraniol. It also owes its name to its presence in the Neroli EO. It can also be extracted from Clary Sage EO and Lemongrass EO, in which it is present up to 6%.
Year of discovery :

Data not available.
Other comments :
Price Range :

€€
Stability :

Terpenes tend to polymerize by oxydation.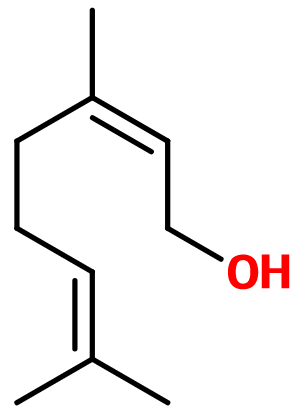 Crédits photo: ScenTree SAS
Molecular formula :

C10H18O

Molecular Weight :

154,25 g/mol

Density :

0,877

Flash Point :

99°C

Fusion Point :

Donnée indisponible.
Appearance :

Colorless liquid

Log P :

2,75

Boiling Point :

104°C (à 9 mmHg)

Detection Threshold :

Donnée indisponible.
Synthesis route :

Nerol is separated from Geraniol at the end of its synthesis from Myrcene. Pyrolysis of beta-Pinene allows to obtain Myrcene, which is converted into geranyl, neryl and linalyl chloride by the addition of hydrochloric acid (catalysed by copper chloride I and a quaternary ammonium salt, for example). The reaction of these intermediates with sodium acetate, followed by saponification of the obtained esters, allows to obtain the alcohols separated by distillation.
Synthesis precursor :

Nerol is a precursor to the synthesis of the same molecules as geraniol, as these two molecules are stereoisomers of each other. It is involved in the synthesis of Citronellal, Citral, Cyclonerol, Dihydronerol and Tetrahydrogeraniol. Nerol, however, tends to cyclize more easily in the presence of an acid.
Isomerism :

Nerol is a diastereoisomer of Geraniol. The trans isomer of 3,7-dimethylocta-2,6-dien-1-ol is Geraniol, when the cis isomer is Nerol. The smell of nerol is closer to Neroli EO or Magnolia Flower EO when geraniol is more citraly and close to Geranium EO. Both molecules remain classics of the rose alcohol family, and both are present in the mixture of molecules called Rhodinol 70. Linalool and Eucalyptol are examples of constitutional isomers of Nerol. Linalool has a floral note, different from Nerol, and Eucalyptol, like other isomers, is radically different from Nerol.
EINECS number :

203-378-7

FEMA number :

2770

JECFA number :

1224

FLAVIS number :

02.058

Allergens :

This ingredient does not contain any allergen.

IFRA :

This ingredient is not restricted
To learn more about IFRA's standards : https://ifrafragrance.org/safe-use/library
ScenTree is solely responsible for the information provided here.
Do you sell any of the raw materials? Would you like to let our users know?
Send an email to fournisseurs@scentree.co to learn about our advertising opportunities.