L-Menthol
Naturelle - Synthétique
CAS N° :
2216-51-5
Herbal > Minty > Icy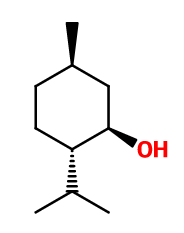 Crédits photo: ScenTree SAS
Other names :

(1R,2S,5R)-5-methyl-2-propan-2-ylcyclohexan-1-ol ; L-hexahydrothymol ; Levomenthol ; L-menthacamphor ; Trans-para-menthan-cis-ol ; (1R,2S,5R)-5-methyl-2-(propan-2-yl)cyclohexanol ; L-peppermint camphor ; 1-isopropyl-4-methyl cyclohexan-2-ol
Volatility :

Head
Uses in perfumery :

L-Menthol is used in mint reconstitutions, in men perfumes, to boost top note.
Natural availability :

L-Menthol is mostly produced naturally from Corn Mint EO at more than 15 000 tonnes per year. The essential oil contains up to 80% L-Menthol and can be glazed to crystallize L-Menthol, separated from the oil by centrifugation. A recrystallization is necessary to obtain a greater purity. Then, the essential oil contains 30 to 50% of Menthone® that can be mobilized again to produce hemi-synthetic L-Menthol. A catalytic hydrogenation of the oil forms L-Menthol and D-Neomenthol. The present menthyl esters are saponified and a new crystallization of L-Menthol takes place. Peppermint EO can also be used to extract natural L-Menthol.
Year of discovery :

Data not available.
Other comments :

L-Menthol is the most widely encountered isomer of Menthol in nature.
L-Menthol is a 'trigeminal' raw material. This means that it involves the trigeminal nerve, responsible for a motor and sensitive function for humans. In the case of L-Menthol, smelling it gives the nose a sensation of cold.
Price Range :

€€
Stability :

Stable in perfumes and diverse functional bases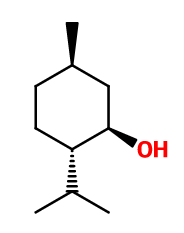 Crédits photo: ScenTree SAS
Molecular formula :

C10H20O

Molecular Weight :

156,27 g/mol

Density :

0,89

Flash Point :

94°C

Fusion Point :

42°C
Appearance :

White solid

Log P :

3,15

Boiling Point :

219°C

Detection Threshold :

Donnée indisponible.
Synthesis route :

L-Menthol can be synthesized in several ways. The first one is the result of dextrorotatory Citronellal cyclization (obtained naturally or from Myrcene), by reaction with a Lewis acid such as zinc chloride. The product obtained is a mixture of Isopulegol isomers (the laevorotatory isomer being obtained in majority). Then, the isomers of Isopulegol can be separated to recover the laevorotatory component and synthesize L-Menthol by a catalytic hydrogenation. This hydrogenation can also take place before the separation of the L-Menthol (which then, would have to be esterified). A second route of synthesis starts from laevorotatory piperitone which is hydrogenated in the presence of a Raney nickel catalyst. A mixture of L-Menthol isomers is obtained. The isomers are separated by saponification and crystallization, through an esterification reaction of the L-Menthol. A third process starts from the dextrorotatory Delta-3-Carene, present in Turpentine EO. It is isomerized into dextrorotatory 2-Carene and pyrolyzed to trans-2,8-p-Menthadiene. Isomerizing the latter synthesizes dextrorotatory Isoterpinolene. A catalytic hydrogenation gives dextrorotatory 3-para-Menthene. A final step of epoxidation, followed by a rearrangement and a catalytic hydrogenation of the compound obtained forms a mixture of Menthol, separable by fractional distillation. There is a last rather complex process starting from Thymol. This process is not detailed here.
Synthesis precursor :

Like its isomers, L-Menthol is a precursor to the synthesis of several compounds of olfactory interest. A catalytic hydrogenation of the molecule leads to the formation of para-Menthan. An oxidation by chromic acid or dehydrogenation leads to the synthesis of Menthone®. A dehydrogenation without catalyst leads to the formation of 3-para-Menthene. Finally, in the presence of an acid catalyst, an esterification with carboxylic acids synthesizes menthyl esters. An esterification with benzoic acid is used on an industrial scale for the resolution of a racemic L-Menthol.
Isomerism :

Menthol has four pairs of isomers (laevorotatory and dextrorotatory), derived from the presence of three asymmetric carbons in the molecule. Menthol, NeoMenthol, IsoMenthol and IsoneoMenthol are part of the isomers mixture. Only L-Menthol causes a sensation of cold during olfaction and is the most often used in perfumery. Citronellol, Dihydromyrcenol and Patchone® are among the L-Menthol isomers. These have very different smells from L-Menthol, as they are more floral or earthy and woody.
EINECS number :

218-690-9

FEMA number :

2665

JECFA number :

Donnée indisponible.

FLAVIS number :

Donnée indisponible.

Allergens :

This ingredient does not contain any allergen.

IFRA :

This ingredient is not restricted
To learn more about IFRA's standards : https://ifrafragrance.org/safe-use/library
ScenTree is solely responsible for the information provided here.