Terpineol
Naturelle - Synthétique
CAS N° :
8000-41-7
Woody > Coniferous > Terpenic > Etheric Solvent > Camphoric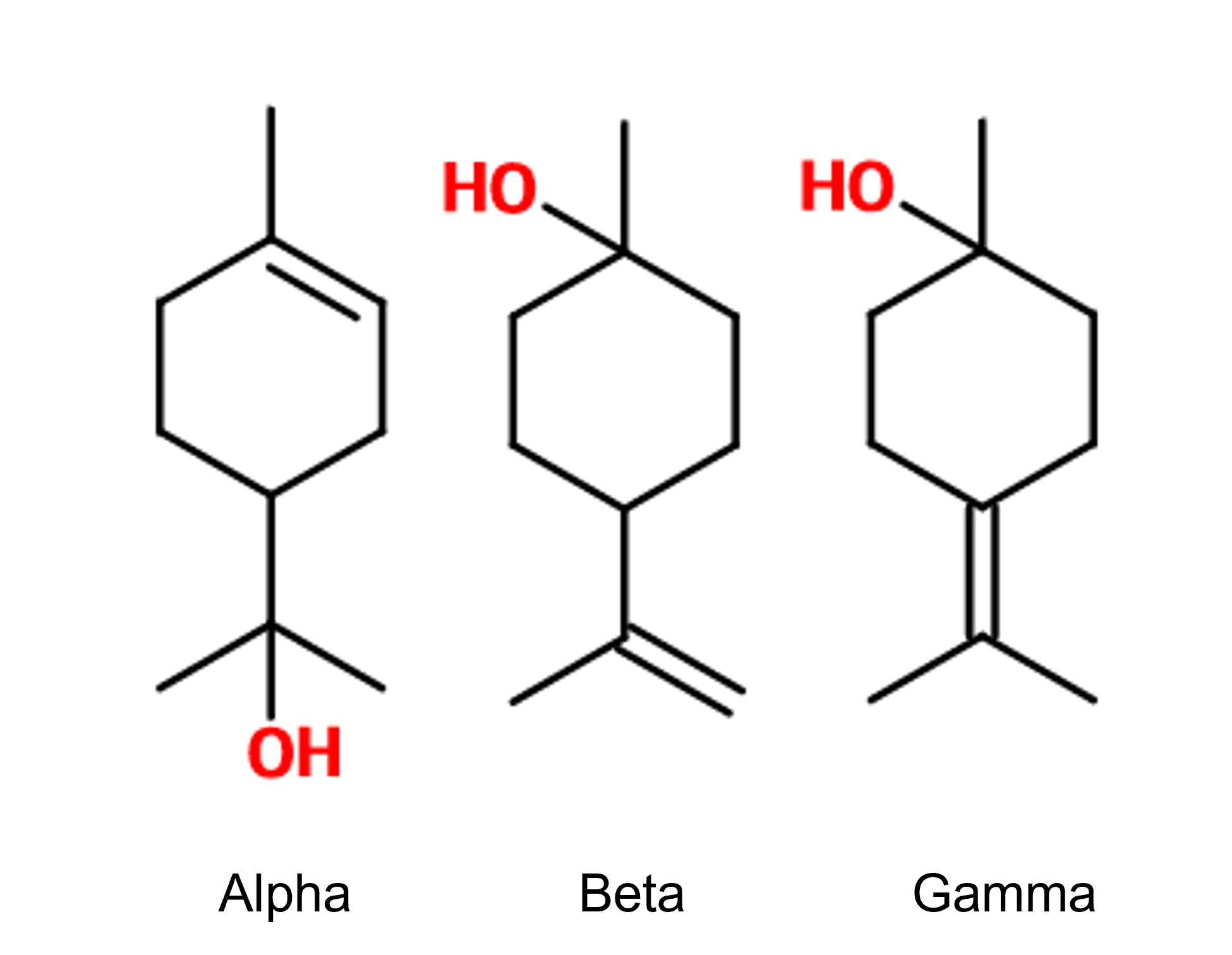 Crédits photo: ScenTree SAS
Other names :

α,4-trimethyl-(1S)-3-cyclohexene-1-methanol ; α,α,4-trimethyl-(1R)-3-cyclohexene-1-methanol ; 1-methyl-4-(1-methylethylidene)-cyclohexanol ; p-Menth-1-en-8-ol ; 2-(4-Methylcyclohex-3-en-1-yl)propan-2-ol
Volatility :

Head
Uses in perfumery :

Besides the fact that terpineol is widely used for the synthesis of other olfactive ingredients, it can also be used as such in our formulas. Its refreshing pine-like odor is widely used in the detergent and home care industry as well as for creating olfactory reconstitutions and bases. It is often detected in chromatography, because this ingredient is found in a large number of essential oils.
Natural availability :

Terpineol can be obtained from the essential oil of many plants by fractional distillation, such as Turpentine EO, Lavender EO, Wormwood EO, Cardamom EO or Clary Sage EO. It is therefore posible to have a natural quality. This ingredient is found, in large quantities or in trace, in a very large quantity of ingredients used in our fragrances. Some references identify more than 200 oils containing it.
Year of discovery :

Terpineol's structure determined in 1885 by Wallach, Tiemann and Semler.
Other comments :

Terpineol, along with menthol-l and carvone-l, is one of the three most important cyclic monoterpenes used in perfumery. Precursor to the synthesis of many other ingredients and present at least trace in most natural extracts, terpineol is essential in perfumery.

The quality presented here comes from a Upcycling program and is 100% renewable carbon.
Price Range :

€
Stability :

Data not available.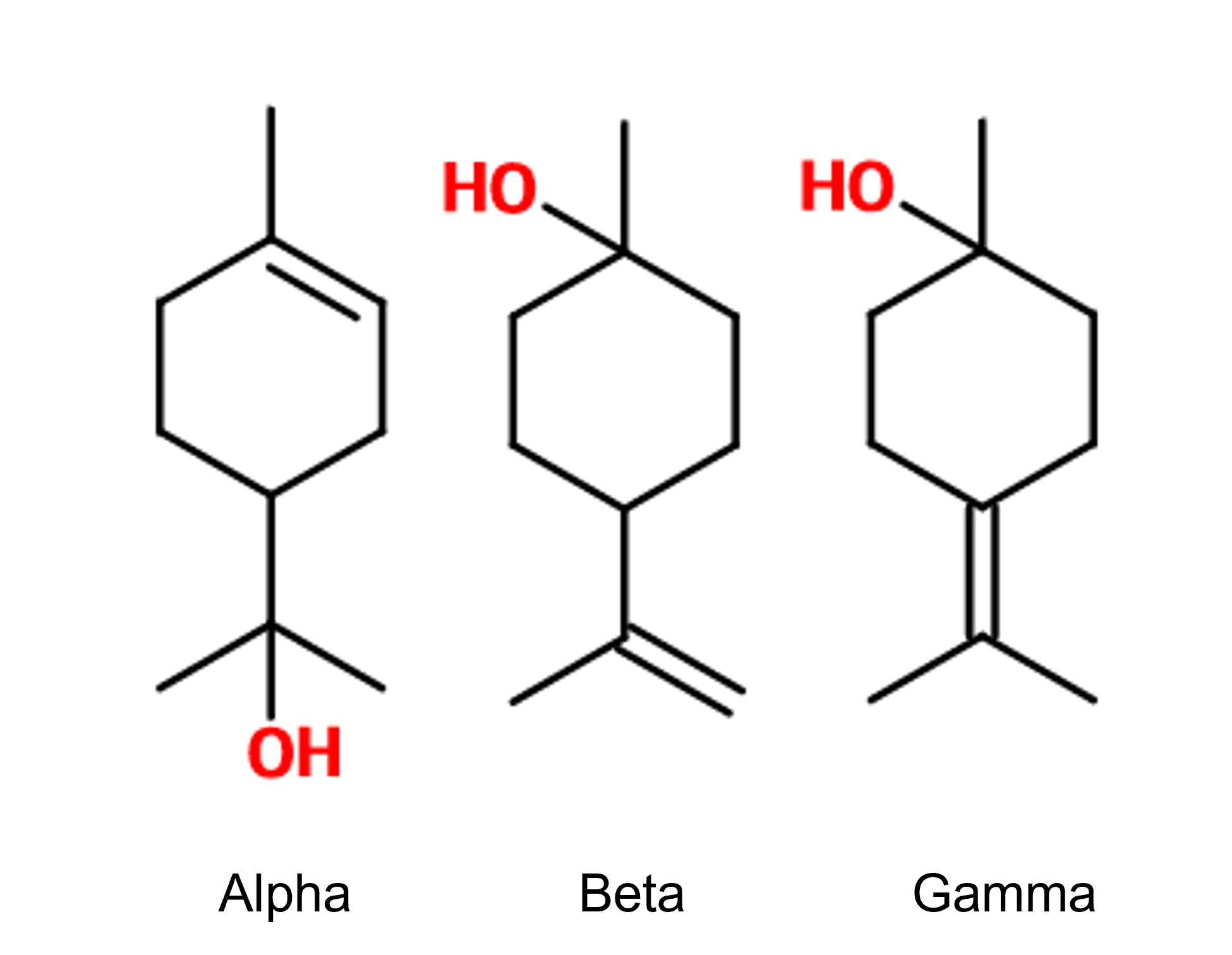 Crédits photo: ScenTree SAS
Molecular formula :

C10H18O

Molecular Weight :

154,25 g/mol

Density :

0,93

Flash Point :

89°C (192°F)

Fusion Point :

Donnée indisponible.
Appearance :

Colorless liquid

Log P :

2,91

Boiling Point :

214–217 °C (417–423 °F)

Detection Threshold :

Donnée indisponible.
Synthesis route :

There are several ways to obtain Terpineol. Either by isolation from a natural ingredient, or by synthesis. The most commonly used reaction mechanisms start with Turpentine EO, alpha-pinene or D-Limonene
Synthesis precursor :

Terpineol is a precursor for the synthesis of a large number of olfactory compounds.
Isomerism :

Terpineol is a mixture of isomers. There are four of them. The alpha-terpineol ; beta-terpineol ; gamma-terpineol as well as terpinen-4-ol.
EINECS number :

202-680-6

FEMA number :

3045

JECFA number :

366

FLAVIS number :

02.014

Allergens :

This ingredient does not contain any allergen.

IFRA :

This ingredient is not restricted
To learn more about IFRA's standards : https://ifrafragrance.org/safe-use/library
ScenTree is solely responsible for the information provided here.
Do you sell any of the raw materials? Would you like to let our users know?
Send an email to fournisseurs@scentree.co to learn about our advertising opportunities.