Isomenthone
Naturelle - Synthétique
CAS N° :
491-07-6
Herbal > Minty > Terpenic > Green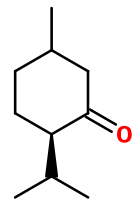 Crédits photo: ScenTree SAS
Other names :

Isomenthone DL ; Menthan-3-one ; 5-methyl-2-propan-2-ylcyclohexan-1-one ; 2-isopropyl-5-methyl-cyclohexanone ; Cis-para-menthan-3-one ; 5-methyl-2-(1-methylethyl)cyclohexanone ; 5-methyl-2-(isopropylcyclo)hexanone ; 2-isopropyl-5-methylcyclohexanone
Volatility :

Head
Uses in perfumery :

Isomenthone is poorly used in perfumery, because of its dirty note. Used in majority in functional perfumery, more than in fine fragrance.
Natural availability :

Isomenthone is found in several species of mint, including Peppermint EO, of which it is one of the major components. It is also found in Geranium EO, whatever its origin. Thus, Isomenthone can be extracted from these different natural raw materials, although, it is difficult to obtain it with a great purity.
Year of discovery :

Data not available.
Other comments :
Price Range :

€€
Stability :

Stable in perfumes and diverse functional bases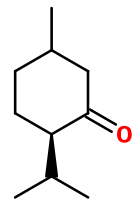 Crédits photo: ScenTree SAS
Molecular formula :

C10H18O

Molecular Weight :

154,25 g/mol

Density :

0,992

Flash Point :

85°C

Fusion Point :

-35°C
Appearance :

Colorless liquid

Log P :

2,7

Boiling Point :

208°C

Detection Threshold :

Donnée indisponible.
Synthesis route :

Isomenthone can be obtained synthetically from Menthol or Thymol. From Menthol, an oxidation reaction of the alcohol function is carried out to obtain a ketone function. The choice of the Menthol isomer (for example L-Menthol) is important to guide the nature of the final product. From Thymol, a hydrogenation in the presence of a palladium on carbon catalyst is necessary. In all cases, several isomers are obtained at the end of the reaction. These can be separated by a fractional distillation to collect the isomers of interest only.
Synthesis precursor :

Menthone® and Isomenthone are used to synthesize Menthol isomers by hydrogenation. The choice of the starting isomer is important. For example, using a laevorotatory Isomenthone leads to the formation of laevorotatory Neomenthol and dextrorotatory Menthol.
Isomerism :

Isomenthone is a diastereoisomer of Menthone®. Both also have a pair of enantiomers : Menthone® have a much colder and alimentary smell and Isomenthone are greener and more terpenic. These molecules are difficult to obtain with a high purity because the isomers have a tendency to interconvert. In perfumery, the most used Isomenthone is its enantiomers mixture. In addition, Isomenthone is a constitutional isomer of Borneol in particular. Both provide a refreshing effect in compositions, but Isomenthone is more suitable for mint reconstitutions.
EINECS number :

207-727-4

FEMA number :

3460

JECFA number :

430

FLAVIS number :

07.078

Allergens :

This ingredient does not contain any allergen.

IFRA :

This ingredient is not restricted
To learn more about IFRA's standards : https://ifrafragrance.org/safe-use/library
ScenTree is solely responsible for the information provided here.