Immortelle Absolute
Naturelle
CAS N° :
977060-66-4
Balsamic Ambery > Ambery Cistus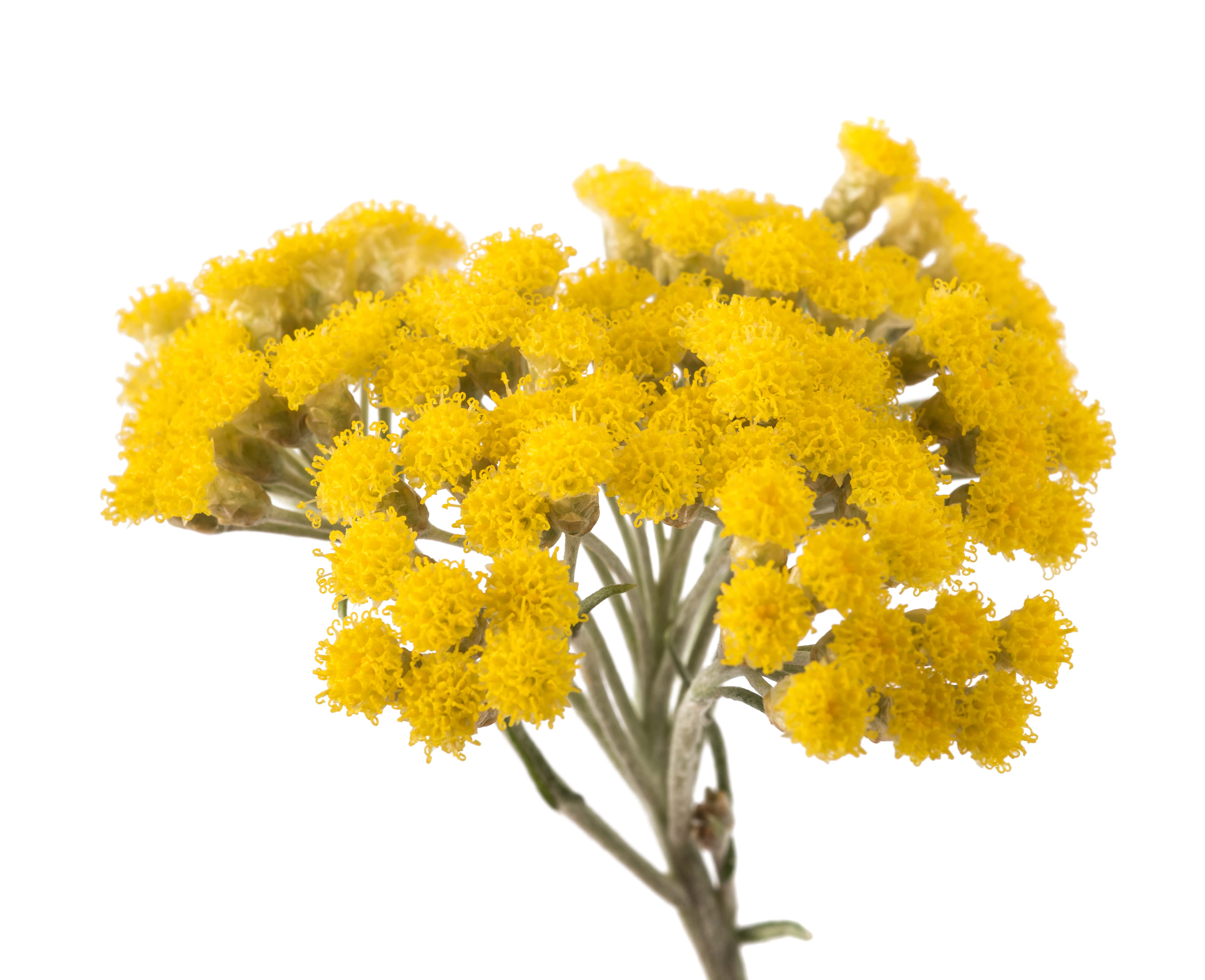 Crédits photo: ScenTree SAS
Latin name :

Helichrysum italicum
Botanical profile :

Immortelle is a herbaceous plant of the Asteraceae family and the genus Helichrysum.
Geographic origin :

Immortelle is an endemic plant of the Mediterranean shoreline. It is possible to find it mainly on the cliffs and the scrubland of Corsica (France) or in Italy as well as, to a smaller extent, in Montenegro and in Greece.
Chemotypes :

Depending on its country of culture, immortelle absolute knows variations in its composition: an immortelle cultivated in Montenegro contains a high rate of Neryl Acetate, γ-Curcumene and smaller quantities of Neryl Propionate and aryl-curcumene. On the other hand, if it is cultivated in Greece, it will contain a high level of Geraniol and Geranyl Acetate. Also, an immortelle grown in Corsica contains a high rate of Neryl Propionate, β-diones ( ''italidiones '') with several sesquiterpenes. Finally, a Spanish origin induces a high level of Alpha-Pinene, to the detriment of other compounds.
In perfumery, 6 species are also used: Helichrysum angustifolium, Helichrysum gymnocephalum (female helichrysum), Helichrysum stoechas (also Mediterranean), Helichrysum bracteiferum (male helichrysum), Helichrysum faradifani and Helichrysum splendidum (splendid immortal). These species are included among the 500 cultivable species.
Extraction process :

Once harvested and dried in June and July, immortelle gives an essential oil - Immortelle EO (yield inferior to 1%) or a concrete and an absolute (Immortelle Absolute) in the case of an organic solvent treatment (yield of 1%, then 70% on the concrete).
The flower heads of the plant are cut with a sickle. The cut cannot be mechanized because this plant grows wild. The plants are extracted with hexane to obtain the concrete which is diluted in alcohol to precipitate the waxes after a glazing process at 32 °F. The absolute is obtained after filtration and evaporation of the alcohol.
Immortelle absolute is often subjected to a distillation to be bleached.
Crédits photo: ScenTree SAS

Uses in perfumery :

Used in blond tobacco, tuberose, carnation, chypre and fougere notes (for its tobacco and hay note).

Other comments :

Immortelle is so called because of its very slight appearance variations throughout its growth, even when grown and dried. Its Latin name Helichrysum, comes from the Greek and means ''golden sun ''.
The characteristic smell of immortelle is due to the presence of small amounts of 3,5-dimethyloctane-4,6-dione and 2,4-dimethyl-heptane-3,5-dione.
Sometimes, immortelle is also called ''curry plant '' because of its colour.

Volatility :

Base

Appearance :

Viscous green liquid

Stability :

Gets easily coloured and olfactively degraded
Solubility issues in perfumes
The esters identified in this raw material can form their corresponding acid in stability tests. Neryl acecate contained here may form acetic acid.

Price Range :

€€€€

Aromatherapy :

Informations provided below are taken from reference works in aromatherapy. They are given for information purposes only and can not constitute medical information, nor engage the responsibility of ScenTree.

Immortelle is often used as an infusion to relieve asthma, chronic bronchitis, headaches, skin burns and allergies. Immortelle allows the skin to regenerate and fluidifies blood circulation. Finally, it is used as antimicrobial and antifungal.
EINECS number :

289-918-2

FEMA number :

2592

Allergens :

IFRA :

This ingredient is not restricted
To learn more about IFRA's standards : https://ifrafragrance.org/safe-use/library
ScenTree is solely responsible for the information provided here.