Alpha-Terpineol
Naturelle - Synthétique
CAS N° :
98-55-5
Woody > Coniferous > Terpenic > Etheric Solvent > Rosy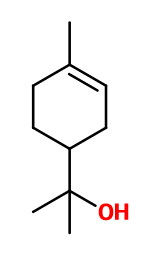 Crédits photo: ScenTree SAS
Other names :

2-(4-methyl-1-cyclohex-3-enyl)propan-2-ol ; Lindenol® ; Para-menth-1-en-8-ol ; 1-para-menthen-8-ol ; 2-(4-methyl-1-cyclohex-3-enyl)propan-2-ol ; 2-(4-methyl-3-cyclohexen-1-yl)-2-propanol ; 1-methyl-4-isopropyl-1-cyclohexen-8-ol ; Alpha,alpha,4-trimethyl-3-cyclohexene-1-methanol
Volatility :

Head
Uses in perfumery :

Alpha-Terpineol is used in perfume detergents and soaps. Used in lavender, lilac, freesia and lily of the valley notes for a clean effect. Used in lemon and other citrus notes, to rise them.
Natural availability :

Alpha-Terpineol can be extracted from the essential oil of many plants by fractional distillation, such as Camphorated Wormwood EO, Cardamom EO or Clary Sage EO.
Year of discovery :

Data not available.
Other comments :

In comparision to other terpenes, Alpha-Terpineol has a distinctive rosy smell.
Price Range :

€
Stability :

Terpenes tend to polymerize by oxydation.
Very unstable in alkaline functional bases as soap. In this base, its smell in not percievable.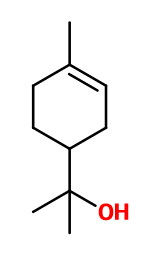 Crédits photo: ScenTree SAS
Molecular formula :

C10H18O

Molecular Weight :

154,25 g/mol

Density :

0,934

Flash Point :

91°C

Fusion Point :

40°C
Appearance :

White solid

Log P :

2,7

Boiling Point :

219°C

Detection Threshold :

De l'ordre de 280 à 350 ppb (0,000035%) selon les personnes
Synthesis route :

Alpha-Terpineol is synthesized by a hydration reaction of alpha-Pinene in an acid medium, forming cis-Terpine. A partial dehydration of this compound in an acid medium allows to obtain alpha-Terpineol and several of its isomers. Further conversions from D-Limonene, Delta-3-Carene and Dipentene are possible to obtain synthetic Terpineol.
Synthesis precursor :

Alpha-Terpineol is a precursor to the synthesis of several compounds of olfactory interest. A hydrogenation synthesizes para-Menthan-8-ol. It can dehydrate under the action of acids to give a mixture of unsaturated cyclic terpenes. Terpine is obtained in a moderate acid medium. The most carried out reaction from alpha-Terpineol remains its esterification in Terpenyl acetate, with a smell of Bergamot EO.
Isomerism :

Terpineol is a mixture of isomers. Alpha-Terpineol can be isolated after its synthesis. gamma-Terpineol is majoritarily present in the synthesis result of Terpineol. That's why it is less expensive. Eucalyptol, Geraniol, Nerol and Linalool are some of Terpineol isomers. They do not share the same smell, often more floral or camphorated.
EINECS number :

202-680-6

FEMA number :

3045

JECFA number :

366

FLAVIS number :

02.014

Allergens :

This ingredient does not contain any allergen.

IFRA :

This ingredient is not restricted
To learn more about IFRA's standards : https://ifrafragrance.org/safe-use/library
ScenTree is solely responsible for the information provided here.
Do you sell any of the raw materials? Would you like to let our users know?
Send an email to fournisseurs@scentree.co to learn about our advertising opportunities.