Eucalyptol
Naturelle - Synthétique
CAS N° :
470-82-6
Herbal > Agrestic > Terpenic > Icy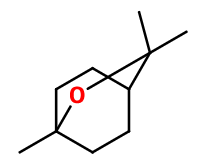 Crédits photo: ScenTree SAS
Other names :

1,8-Cineole ; 4,7,7-trimethyl-8-oxabicyclo[2.2.2]octane ; 1,3,3-trimethyl-2-oxabicyclo(2.2.2)octane ; Cajeputol
Volatility :

Head
Uses in perfumery :

Eucalyptol is used in woody, aromatic and fougere perfumes, to boost a lavender and to ice flowers and fruits, bringing them a cold facet.
Natural availability :

Eucalyptus EO contains up to 85% Eucalyptol, therefore the molecule can be extracted with a purity of up to 99,8%. Bay Leaf EO also contains up to 70% Eucalyptol.
Year of discovery :

Data not available.
Other comments :

Data not available.
Price Range :

€€
Stability :

Stable in perfumes and diverse functional bases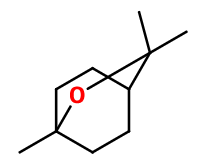 Crédits photo: ScenTree SAS
Molecular formula :

C10H18O

Molecular Weight :

154,25 g/mol

Density :

0,925

Flash Point :

48°C

Fusion Point :

1°C
Appearance :

Colorless liquid

Log P :

Donnée indisponible,

Boiling Point :

176°C

Detection Threshold :

Entre 1 et 64 ppb (0,0000064%) selon les personnes
Synthesis route :

Eucalyptol is a little synthesized raw material, as it can be extracted from Eucalyptus EO and other oils with a high yield and high purity.
Synthesis precursor :

Eucalyptol can be a precursor to the synthesis of other terpenes, by a Diels-Alder reaction for example.
Isomerism :
EINECS number :

207-431-5

FEMA number :

2465

JECFA number :

1234

FLAVIS number :

03.001

Allergens :

This ingredient does not contain any allergen.

IFRA :

This ingredient is not restricted
To learn more about IFRA's standards : https://ifrafragrance.org/safe-use/library
ScenTree is solely responsible for the information provided here.