Terpinolene
Naturelle - Synthétique
CAS N° :
586-62-9
Citrus > Zesty > Terpenic > Camphoric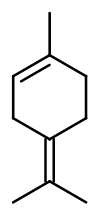 Crédits photo: ScenTree SAS
Other names :

Terpinolene 20 ; Terpinolene 90 ; Terpinolene 95 ; Menthadiene-para ; 1-methyl-4-propan-2-ylidenecyclohexene ; Para-menth-1,4,8-diene ; Para-mentha-1,4,8-diene ; 1-methyl-4-(1-methylethylidene)-1-cyclohexene ; 1-methyl-4-isopropylidene-1-cyclohexene ; 1-methyl-4-propan-2-ylidenecyclohexene ; Nofmer TP ; 1,4,8-terpadiene ; Terpinol
Volatility :

Head
Uses in perfumery :

Terpinolene is mainly used in consumer products, especially in detergents, for lime and zesty notes, and to bring freshness and head to the fragrance. Adds a clean effect to the accord.
Natural availability :

Terpinolene is present in many natural raw materials. Among the most important are Cajuput EO, Blackcurrant Bud EO (the rate is very variable, up to 20%), Sweet Fennel EO and Lime EO. It can be extracted from all these raw materials.
Year of discovery :

Data not available.
Other comments :

Terpinolene is a monoterpene. This means, as for D-Limonene for example, that this molecule is composed of two units of isoprene, and that it has ten carbon and sixteen hydrogen atoms. This category of terpenes has many isomers. Among other terpinenes, gamma-Terpinene remains the most used, especially in functional products.
Price Range :

€
Stability :

Terpenes tend to polymerize by oxydation.
Very unstable in alkaline functional bases as soap. In this base, its smell in not percievable.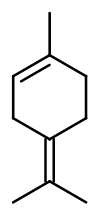 Crédits photo: ScenTree SAS
Molecular formula :

C10H16

Molecular Weight :

136,24 g/mol

Density :

0,86

Flash Point :

61°C

Fusion Point :

<-20°C
Appearance :

Colorless liquid

Log P :

4,9

Boiling Point :

220°C

Detection Threshold :

Donnée indisponible.
Synthesis route :

The majority of terpenes can be synthesized by a Diels-Alder reaction, which consists in reacting a molecule called ''diene '' and another ''dienophile ''. In the case of Terpinolene, the position of its double bond makes its synthesis difficult. In the majority of cases, this molecule is extracted from a natural material. It can still be synthesized by reacting isoprene with acrylic acid by a Diels-Alder reaction. Then, the cyclic carboxylic acid obtained is placed in a very strong alkaline medium to allow a reaction with acetone. Therefore, the obtained intermediate molecule contains an alcohol group and a close acid group, and can be esterified by reaction with sulfuryl chloride. Finally, a decarboxylation can be carried out to form the double bond linked to the molecule ring.
Synthesis precursor :

Terpinolene is the starting reagent for the synthesis of Terpinene-4-ol, by photooxidation, reduction of the obtained peroxide and selective hydrogenation of the intermediate alcohol then synthesized.
Isomerism :

Terpinolene is the isomer of many other terpenes, including D-Limonene, alpha-Pinene and beta-Pinene and alpha-Terpinene. All are monoterpenes.
EINECS number :

209-578-0

FEMA number :

3046

JECFA number :

1331

FLAVIS number :

01.005

Allergens :

This ingredient does not contain any allergen.

IFRA :

This ingredient is not restricted
To learn more about IFRA's standards : https://ifrafragrance.org/safe-use/library
ScenTree is solely responsible for the information provided here.
Do you sell any of the raw materials? Would you like to let our users know?
Send an email to fournisseurs@scentree.co to learn about our advertising opportunities.