Gamma-Terpinene
Naturelle - Synthétique
CAS N° :
99-85-4
Citrus > Zesty > Terpenic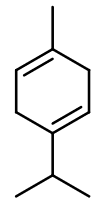 Crédits photo: ScenTree SAS
Other names :

Menthadiene-para ; 1-methyl-4-propan-2-ylcyclohexa-1,4-diene ; Crithmene ; 1-methyl-4-isopropyl-1,4-cyclohexadiene ; Para-mentha-1,4-diene ; 4-methyl-1-(1-methylethyl)-1,4-cyclohexadiene ; 1-methyl-4-(1-methyl ethyl)-1,4-cyclohexadiene ; Moslene ; 1-isopropyl-4-methyl-1,4-cyclohexadiene ; 4-isopropyl-1-methyl-1,4-cyclohexadiene
Volatility :

Head
Uses in perfumery :

Gamma-Terpinene is used in fresh and zesty citrus notes, for a top note contribution. Gives a terpenic effect to a citrus note. Widely used in consumer products, detergents and other household products.
Natural availability :

Gamma-Terpinene is present in a large quantity (around 20%) in Ajowan EO, a seed grown in southern India, botanically close to caraway and cumin. This molecule is also found in Bergamot EO, Cumin EO, Cajuput EO, Eucalyptus delegatensis EO (Ethiopian variety) and Grapefruit EO among others. It can be extracted from all these essential oils by fractional distillation.
Year of discovery :

Data not available.
Other comments :

Gamma-Terpinene is a monoterpene. This means, as for D-Limonene for example, that this molecule is composed of two units of isoprene, and that it has ten carbon and sixteen hydrogen atoms. This category of terpenes has many isomers. Among other terpinenes, gamma-Terpinene remains the most used, especially in functional products.
The smell of Gamma-Terpinene is less citric than the one of Alpha-Terpinene.
Price Range :

€
Stability :

Terpenes tend to polymerize by oxydation.
Very unstable in alkaline functional bases as soap. In this base, its smell in not percievable.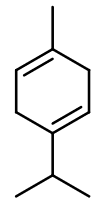 Crédits photo: ScenTree SAS
Molecular formula :

C10H16

Molecular Weight :

136,24 g/mol

Density :

0,847

Flash Point :

56°C

Fusion Point :

-10°C
Appearance :

Colorless liquid

Log P :

4,5

Boiling Point :

182°C

Detection Threshold :

Donnée indisponible.
Synthesis route :

Like many terpenes, the reaction to obtain Gamma-Terpinene is a Diels-Alder reaction. It involves reacting a molecule called ''diene '' with another called ''dienophile '' to cyclize the molecule. Here, Isoprene (diene) can react with 3-methylbutyne (dienophile). Therefore, gamma-Terpinene results directly from this reaction.
Synthesis precursor :

Gamma-Terpinene can be used for the synthesis of other terpenses and sesquiterpenes, always by Diels-Alder reaction. It can be used in other various reactions, such as a hydrolysis reaction. Its structure has a wide range of possible reactions.
Isomerism :

Gamma-Terpinene is the isomer of many other terpenes, including D-Limonene, alpha-Pinene and beta-Pinene and alpha-Terpinene. The latter isomer has a smell that is quite close to gamma-Terpinene, although it is closer to Lime EO, and slightly less terpenic.
EINECS number :

202-794-6

FEMA number :

3559

JECFA number :

1340

FLAVIS number :

01.020

Allergens :

This ingredient does not contain any allergen.

IFRA :

This ingredient is not restricted
To learn more about IFRA's standards : https://ifrafragrance.org/safe-use/library
ScenTree is solely responsible for the information provided here.
Do you sell any of the raw materials? Would you like to let our users know?
Send an email to fournisseurs@scentree.co to learn about our advertising opportunities.