Terpinen-4-ol
Naturelle - Synthétique
CAS N° :
562-74-3
Herbal > Camphoric > Coniferous > Earthy > Rosy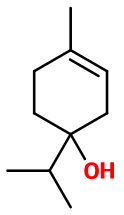 Crédits photo: ScenTree SAS
Other names :

4-carvomenthenol ; 4-methyl-1-(1-methylethyl)-3-cyclohexen-1-ol ; Para-menth-1-en-4-ol ; 1-para-menthen-4-ol ; Origanol ; 1-isopropyl-4-methyl-3-cyclohexen-1-ol ; Terpinenol
Volatility :

Head
Uses in perfumery :

Terpinen-4-ol is used for aromatic accords, around pine, pepper and geranium, especially in detergents and functional perfumes. It brings an earthy effect.
Natural availability :

Terpinen-4-ol is present in many essential oils, especially aromatic ones. It is found in a large quantity in Marjoram EO and in Tea Tree EO. It is present in moderate quantities in Lavender EO, Nutmeg EO and Blackcurrant Bud Absolute.
Year of discovery :

Data not available.
Other comments :

Terpinen-4-ol is a monoterpene. This means, as for D-Limonene, that this molecule is composed of two isoprene units, and therefor ten carbon atoms. This category of terpenes includes many isomer.
Price Range :

€
Stability :

Terpenes tend to polymerize under the effect of high oxydation, and are unstable in alkaline and acidic bases.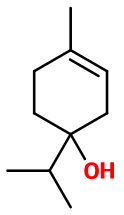 Crédits photo: ScenTree SAS
Molecular formula :

C10H18O

Molecular Weight :

154,25 g/mol

Density :

0,931

Flash Point :

79°C

Fusion Point :

Donnée indisponible.
Appearance :

Colorless liquid

Log P :

Donnée indisponible,

Boiling Point :

89°C

Detection Threshold :

Donnée indisponible.
Synthesis route :

Terpinen-4-ol is often synthesized at a low cost as a by-product in the synthesis of Alpha-Terpineol from Terpine hydrate. The resulting molecule is not completely pure. Nevertheless, it is possible to synthesize pure Terpinen-4-ol from Terpinolene by photosensitized oxidation, followed by reduction of the intermediary peroxide, and selective hydrogenation of the intermediate alcohol formed.
Synthesis precursor :

Terpinen-4-ol can be used for the synthesis of Alpha-Terpineol. The goal of this synthesis is to shift the alcohol function of the initial molecule to its neighbouring carbon. However, this synthesis is not very common.
Isomerism :

Terpinen-4-ol used in perfumery, and often found in nature, is a racemic mixture of its two enantiomers, dextrorotatory and levorotatory. Both have an equivalent odor, which explains the use of the mixture of the two isomers. Terpinen-4-ol is also a positional isomer of Alpha-Terpineol, which has a more floral and less earthy odor.
EINECS number :

209-235-5

FEMA number :

2248

JECFA number :

439

FLAVIS number :

02.072

Allergens :

This ingredient does not contain any allergen.

IFRA :

This ingredient is not restricted
To learn more about IFRA's standards : https://ifrafragrance.org/safe-use/library
ScenTree is solely responsible for the information provided here.
Do you sell any of the raw materials? Would you like to let our users know?
Send an email to fournisseurs@scentree.co to learn about our advertising opportunities.