CAS N° :
84238-39-1
Undergrowth > Earthy > Mossy > Smoky Woods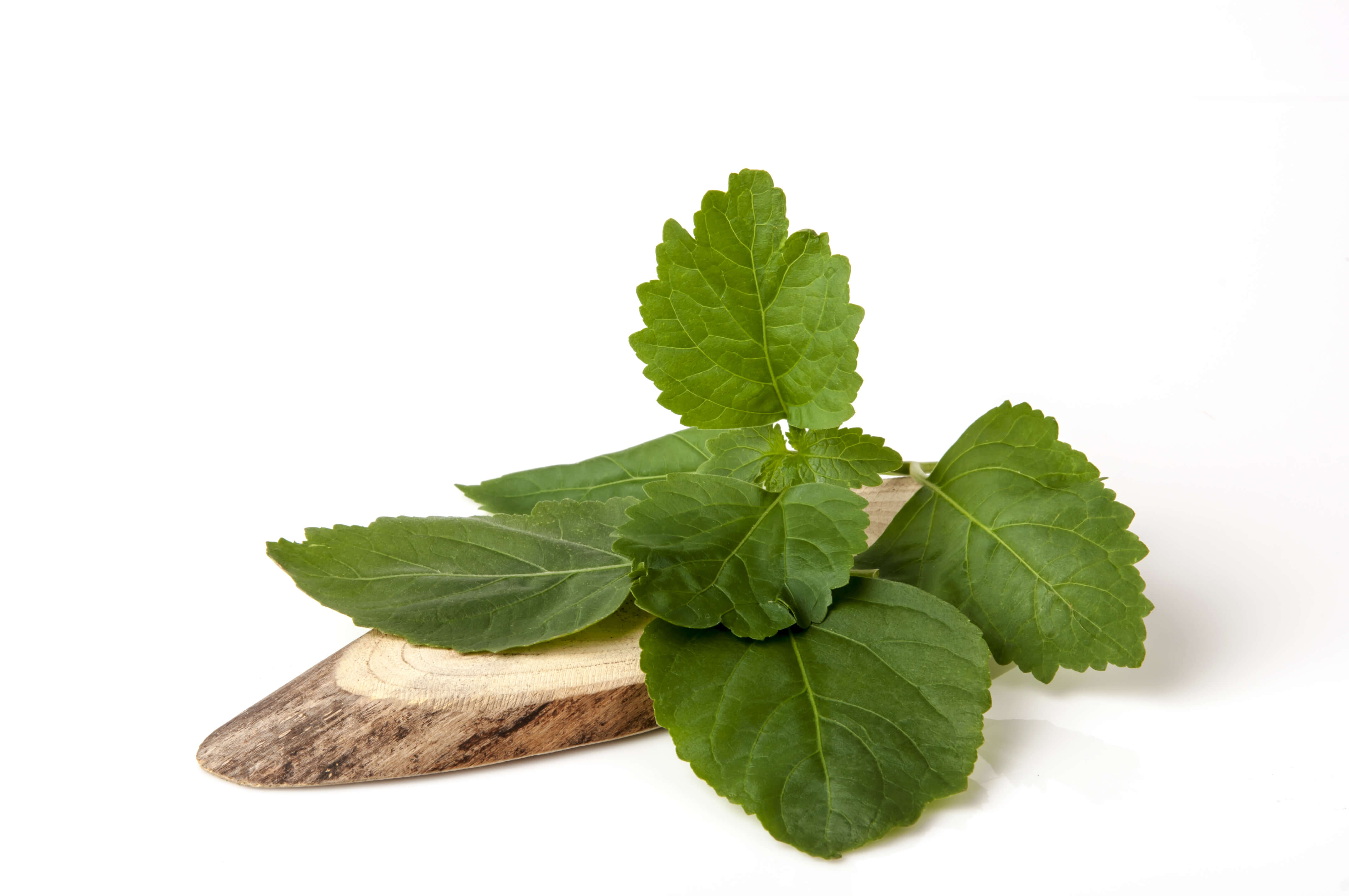 Crédits photo: ScenTree SAS
Latin name :

Pogostemon cablin
Botanical profile :

Patchouli is a leaf plant of the Lamiaceae family and the genus Pogostemon.
Geographic origin :

Patchouli essential oil is mainly produced in Indonesia (about 1500 tons/year, 90% of worldwide production). Historically, Sumatra and Java islands were considered to be the best terroirs in the world. The cultivation of this shrub being particularly greedy, it significantly impoverishes the soils and does not allow to maintain production at the same place for more than 5 years. Once the soil is impoverished, it becomes unusable for almost 10 years. Thus, crops were gradually relocated to the island of Sulawesi, the current world production center (now accounts for approximately two-thirds of global output involving some 30,000 – 40,000 producers). It is also possible to find patchouli crops in the Philippines, India, Malaysia and Madagascar, but production volumes are particularly low and quality is generally lower.
Chemotypes :

The genus Pogostemon is composed by 35 species. The patchouli used in perfumery is Pogostemon cablin. There is however a ''false patchouli '', the Pogostemon heyneanus. This patchouli is also grown in Indonesia and is often marketed as ''Java Patchouli '' or ''Sumatra Patchouli ''. Unlike Pogostemon cablin, it blooms and its essential oil has a lower quality.
Extraction process :

Plants are propagated by cutting because patchouli does not produce flowers and even fewer fruits. Plants are then arranged into rows, separated by a few tens of centimetres. The main harvest takes place during the wet season, from December to January, after 5 to 9 months of growth, early in the morning or late in the evening (this avoids the heat and thus the evaporation of the essential oil contained in the leaves). Leaves are picked one by one, without the stems. The subsequent harvests can take place every 3 to 6 months for 2 to 3 years. First cuts are generally more interesting from an olfactory and a yield point of view. Patchouli grows better at elevations of between 200 – 300 metres above sea level. Initially patchouli was grown in Sulawesi at sea level but growing at higher elevations improved patchouli quality with a higher PA and lower acidic value.
In order to get the most oil from the leaves, they are dried in the shade for about 1 week, turned over and then stored in a dry place (this increases the permeability of the leaves and allows to release a large part of the essential oil contained in the leaf itself). This step induces a loss of about 80 to 85% of the initial weight of the leaf. Similarly, the longer the drying process, the higher the quality of the essential oil. However, this waiting time reduces the yield.
After drying, leaves are ready to be extracted by steam distillation under pressure for 6 to 24 hours. Again, several types of distillation can take place. Differences mainly regarding the nature of the extraction tank. Indeed, in the poorest regions (Sumatra for example) tanks are made of iron and the volumes treated are very small. Iron is not optimal for patchouli because it is then found in the essential oil (Phenols contained in the EO react and form ferrous ions) and brings nothing more than instability (coloration). Products extracted by this way (approximately 10-20% of the world production) must then undergo a process known as ''de-ironation '' (treatment with citric acid, for example) in order to recover an interesting quality. This is known as ''Patchouli de-ironed ''. For several years now, producers, supported by the perfume industry, have been able to develop their production techniques and are now able to distillate more than 80% of the world's production in stainless steel vats capable of holding almost 10x the volume. These innovations have made it possible to gradually eliminate the iron removal stage. This is known as ''Patchouli light ''.
Regardless of the distillation method used, the yield between the dry leaves and the essential oil is below 2%.
Once distillation has been carried out, the EO undergoes a maturation stage of a few days in order to evaporate the first top notes considered as unpleasant (sulfuric notes).
It should also be noted that it is possible to obtain ''Patchouli Heart '' after fractional distillation. In the latter, only the central fraction of the essential oil is kept. Top and bottom fractions are removed. It is also possible to obtain ''Patchouli DM '' by molecular distillation. Finally, an extraction with volatile solvents is also possible, making it possible to obtain Patchouli Absolute. This process is however very rarely carried out because it is generally not appreciated by perfumers.
Major Components :

Patchoulol (24-46%)
Alpha-Bulnesene (13-35%)
Alpha-Guaiene (15-22%)
Seychellene (≈10%)
Alpha-Patchoulene (9-12%)
Beta-Patchoulene (2-4%)
Beta-Caryophyllene (≈4%)
Plotter(s) : Patchoulol
Crédits photo: ScenTree SAS

Uses in perfumery :

Patchouli is, after citrus, one of the most widely used natural raw materials in perfumery since the beginning of the 20th century. With a rich history, this ingredient is used in the composition of many perfume schemes and families such as woody, oriental and chypre fragrances (with Bergamot EO, Cistus EO, Cistus Labdanum Absolute Green and Oak Moss Absolute).
Initially used as an anti-mosquito during long sea crossings, the scent of patchouli conquered Europe at the beginning of the 20th century. At that time, powerful, animalic and scents with character were very popular. This was the beginning of the appetite for patchouli. Present in Chypre by Coty (1917), in Mitsouko by Guerlain (1919). Years passed and trends changed, in the middle of the 20th century, colognes and floral bouquets appeared and put patchouli in the background. The latter became associated with decadent women and prostitutes; it is a period of major decline for patchouli.
In the early 60s and 70s, hippie movement took hold and, with it, patchouli came back to the forefront and even became the main ingredient of many iconic fragrances: Patchouli by Réminiscence (1970) - Aromatics Elixir by Clinique (1972) for example. This comeback would continue into the 90s with fragrances like Angel by Thierry Mugler (1992) and Yvresse by YSL (1993). Nowadays, patchouli is more discreet, it's rare to find big launches highlighting patchouli. Yet, it is still present in the perfumers' palette and is still used a lot to bring woody freshness, to give a dead-leaf, mossy effect, but also to support other woods and give them volume and tenacity. It is therefore today a ''secondary '' material in formulas, but the main one because of its rich history and its many uses over the last two centuries. Note that some niche brands have fragrances built around patchouli, like Patchouli Impérial by Dior (2011) and Patchouli Patch by l'Artisan Parfumeur (2002).

Other comments :

The Latin name of patchouli is derived from the name ''kablin '', in tagalog (Philippine language).
In Indonesia, the grass is called ''dilem wangi '' for ''cultivated patchouli '' because it blooms very rarely and is propagated by cuttings.
Many patchouli cultures are involved in organic production. This is a major challenge for the quality of a patchouli culture.
The characteristic smell of patchouli is due to the presence of nor-patchoulenol, which has a much more powerful smell than patchoulol.
An adulteration of the essential oil of patchouli can be made using the essential oil of ''false patchouli '', from the specie Pogostemon heyneanus. This oil is less expensive and its quality is much lower.
Patchouli cultivation sites are very dependent on climatic conditions. A tsunami ravaged the islands of Java and Sumatra and the culture was moved to Sulawesi.

Volatility :

Base

Appearance :

Brown liquid

Stability :

Quite unstable. Can form various compounds changing its smell through time in an alcoholic base
The terpenes identified in this raw material can polymerize when they are oxidized

Price Range :

€€€

Aromatherapy :

Informations provided below are taken from reference works in aromatherapy. They are given for information purposes only and can not constitute medical information, nor engage the responsibility of ScenTree.

Patchouli is renowned for its phlebotonic virtues (tones venous walls). It is indicated in case of acne and especially varicose veins.
EINECS number :

282-493-4

FEMA number :

Donnée indisponible.

Allergens :

IFRA :

This ingredient is not restricted
To learn more about IFRA's standards : https://ifrafragrance.org/safe-use/library
ScenTree is solely responsible for the information provided here.