Labrador Tea EO
Naturelle
CAS N° :
93384-25-9
Spicy > Warm Spices > Terpenic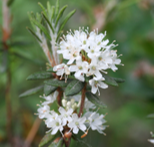 Crédits photo: ScenTree SAS
Latin name :

Ledum groenlandicum ; Rhododendron groenlandicum
Botanical profile :

Labrador Tea EO is a shrub belonging to the Ericaceae family (such as Wintergreen EO) and the genus Ledum
Geographic origin :

Plants of the genus Ledum are generally distributed over the northern hemisphere and mainly in North America. They are therefore found in Canada, the main producer, but also in the USA and Alaska.
Chemotypes :

Recent genetic evidence has shown that plants of the genus ledum should eventually be placed in the genus Rhododendron. It is therefore more relevant to speak of Rhododendron greenlandicum but the term Ledum greenlandicum is still correct.
Extraction process :

Stream distillation of twigs and leaves
Major Components :
Crédits photo: ScenTree SAS

Uses in perfumery :

Data not available.

Other comments :

The Athabascans (Native American people) used the leaves of the plants to make a drink looking like a tea, hence the common name. For them, it was a traditional remedy for colds, tuberculosis, dizziness, stomach problems, etc.

Volatility :

Heart

Appearance :

Colorless liquid

Stability :

Price Range :

€€€€€

Aromatherapy :

Informations provided below are taken from reference works in aromatherapy. They are given for information purposes only and can not constitute medical information, nor engage the responsibility of ScenTree.

Data not available.
EINECS number :

297-236-1

FEMA number :

Donnée indisponible.

Allergens :

This ingredient does not contain any allergen.

IFRA :

This ingredient is not restricted
To learn more about IFRA's standards : https://ifrafragrance.org/safe-use/library
ScenTree is solely responsible for the information provided here.
Do you sell any of the raw materials? Would you like to let our users know?
Send an email to fournisseurs@scentree.co to learn about our advertising opportunities.