Eugenyl acetate
Naturelle - Synthétique
CAS N° :
93-28-7
Spicy > Warm Spices > Eugenol,spicy > White Flowers > Tobacco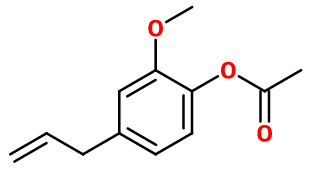 Crédits photo: ScenTree SAS
Other names :

Acetyl Eugenol ; 2-methoxy-4-prop-2-enylphenyl acetate ; Acetic acid eugenyl ester
Volatility :

Heart/Base
Uses in perfumery :

Eugenyl acetate is used in clove notes to deepen a floral character, or in white floral notes such as jasmine to affirm its spicy facet. Very good for jasmine tea notes.
Natural availability :

Eugenyl acetate is present in a relatively small amount in Ceylon Cinnamon EO (and other origins), Cinnamon Leaf EO, Clove Bud EO, Clove Leaf EO, in Bay St-Thomas EO and Laurel Bay EO among others. It can be extracted in its natural state from all these essential oils.
Year of discovery :

Data not available.
Other comments :

Comparing it with Eugenol, Eugenyl acetate has a more floral-jasmine facet and a smell closer to tobacco.
Price Range :

€€€
Stability :

acetates may form acetic acid through time
Most of the time, the occurrence of a benzenic cycle in a molecule causes a coloration of this molecule through time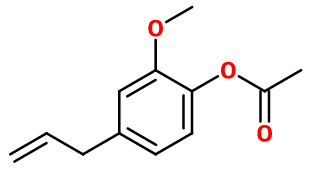 Crédits photo: ScenTree SAS
Molecular formula :

C12H14O3

Molecular Weight :

206,24 g/mol

Density :

1,079

Flash Point :

110°C

Fusion Point :

25°C
Appearance :

Colorless liquid that solidifies at room temperature

Log P :

Donnée indisponible,

Boiling Point :

284°C

Detection Threshold :

Donnée indisponible.
Synthesis route :

Eugenyl acetate is synthesized by an esterification reaction between acetic acid and Eugenol. The reaction is catalysed by the presence of a strong acid in a small quantity, such as concentrated sulfuric acid. For a better yield, the reaction may be done with acetic anhydride or chloroacetic acid instead of acetic acid.
Synthesis precursor :

Eugenyl acetate is not a precursor to the synthesis of another compound of olfactory interest.
Isomerism :

Aldehyde C-16 and Aldehyde C-20 are constitutional isomers of Eugenyl acetate. However, their smell is quite different, as they are fruity rather than spicy.
EINECS number :

202-235-6

FEMA number :

2469

JECFA number :

1531

FLAVIS number :

09.020

Allergens :

This ingredient does not contain any allergen.

IFRA :

This ingredient is not restricted
To learn more about IFRA's standards : https://ifrafragrance.org/safe-use/library
ScenTree is solely responsible for the information provided here.