Aldehyde C-16
Synthétique
CAS N° :
77-83-8
Fruity > Berries > Rosy > Honeyed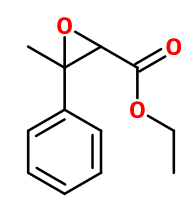 Crédits photo: ScenTree SAS
Other names :

Aldéhyde Fraise® ; Fraise Pure® ; Ethyl Methylphenylglycidate ; Ethyl 3-methyl-3-phenyloxirane-2-carboxylate ; Ethyl-2,3-epoxy-3-phenylbutanoate ; Strawberry aldehyde ; Strawberry pure
Volatility :

Base
Uses in perfumery :

Aldehyde C-16 is used in fruity (especially strawberry), oriental, gourmet and vanilla notes. Also used in spicy-cinnamon and rose, jasmine and violet notes. Goes on well with lactones and ionones.
Natural availability :

Aldehyde C-16 is not available in its natural state.
Year of discovery :

Discovered in 1903.
Other comments :

In comparision to Aldehyde C-20, the latter is less reminiscent of strawberry and more of banana and raspberry.
Price Range :

€
Stability :

Unstable in acidic products and in most alkaline products, except soaps. Stable in shampoos and other neutral products.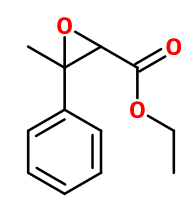 Crédits photo: ScenTree SAS
Molecular formula :

C12H14O3

Molecular Weight :

206,24 g/mol

Density :

1,093

Flash Point :

131°C

Fusion Point :

<-50°C
Appearance :

Colorless liquid

Log P :

2,8

Boiling Point :

302°C

Detection Threshold :

2 ppm (0,0002%)
Synthesis route :

The diastereoisomers obtained are not the same, depending on the conditions used for the synthesis of this two double-bonded compounds. The reaction for obtaining Aldehyde C-16 remains a condensation of Darzens using acetophenone and Ethyl chloroacetate.
Synthesis precursor :

Aldehyde C-16 is not a precursor to the synthesis of another compound of olfactory interest.
Isomerism :

Aldehyde C-16 as used in common perfumery is a mixture of four isomers: (S, S), (R, R), (S, R) and (R, S). Each have a characteristic smell and mixing them gives the smell of Aldehyde C-16. Aldehyde C-20, also known as Raspberry Aldehyde, is a positional isomer of Aldehyde C-16. Both have a fruity smell, but Aldehyde C-20 is more reminiscent of banana.
EINECS number :

201-061-8

FEMA number :

2444

JECFA number :

1577

FLAVIS number :

16.015

Allergens :

This ingredient does not contain any allergen.

IFRA :

This ingredient is not restricted
To learn more about IFRA's standards : https://ifrafragrance.org/safe-use/library
ScenTree is solely responsible for the information provided here.