Eau de Brout Absolute
Naturelle
CAS N° :
8016-38-4
Floral > Orange Blossom > Grassy > Solar > Vanillic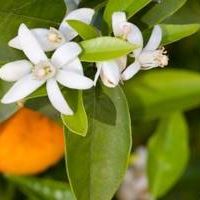 Crédits photo: ScenTree SAS
Latin name :

Citrus aurantium
Botanical profile :

Eau de brout is the water obtained by extracting Petitgrain Bigarade EO. The bitter orange tree is a tree of the Rutaceae family, and of the Citrus genus.
Geographic origin :

Originally from South-East Asia, petitgrain bigarade is now grown in Paraguay, Maghreb, on the shores of the Mediterranean, in North and South America.
Chemotypes :

The genus Citrus includes the vast majority of citrus fruits and includes a large number of varieties available in perfumery:
Bergamot - (Citrus bergamia) is a hybrid of lemon and bitter orange, grown for the essential oil of its fruit and petitgrain.
Bitter orange or bigarade orange - (Citrus aurantium), grown in Spain and Florida.
Citron - (Citrus medica), grown in Italy (Sicily).
Lemon - (Citrus limon), cultured in Italy for the essential oil of its fruit and of its leafy twigs (Petitgrain).
Combava - (Citrus hystrix), grown in Thailand and India.
Lime - (Citrus aurantifolia), grown for its fruit in Mexico for the most part.
Mandarin - (Citrus reticulata), grown mainly in Italy for its fruit and for its petitgrain, by extracting the leaves from the tree. Its hybrid with sweet orange gave birth to clementine.
Orange - (Citrus sinensis) is famous for the cultivation of its fruits, whose juice and essential oil are extracted in Brazil and California in particular, which is the most used of all perfumes.
Grapefruit - (Citrus paradisii) of Malay origin, is cultivated for its essential oil in Brazil and Israel in particular.
Yuzu - (Citrus junos), produced in Japan and Korea.

Extraction process :

The bigaradier is a tree about 3 meters tall in adulthood, whose leaves contain a strong fragrant principle.
The essential oil of petitgrain bigarade results from the extraction of the deciduous branches with water. The twigs are cut so the tree is left as a shrub. The branches are stored in a large cart before they are brought to the factory where they are directly steam distilled.
After the hydrodistillation, the water found in the distillate is called ''eau de brout ''. Eau de brout absolute is obtained after recovery of this water full of volatile compounds. A dilution in alcohol is carried out to solubilize the odorous compounds. Following vacuum evaporation of the extraction solvent, the absolute is obtained.
The bitter orange tree is a tree that allows to recover many extracts. Bitter Orange EO is obtained by cold expression, Petitgrain Bigarade HE can be extracted by steam distillation and Orange Blossom Absolute is obtained by extraction with volatile solvents, unlike Neroli HE, which results from water extraction of the flowers.
Crédits photo: ScenTree SAS

Uses in perfumery :

Used for orange blossom notes, at a lower cost than using other extracts from the bitter orange tree. Used to provide tenacity, a dark, fatty, solar and herbaceous faceted note of dry flowers.

Other comments :

Initially, the term petitgrain was used to name the small green fruits produced by the bitter orange.
In Paraguay, the bitter orange barely flourishes. It is therefore a hybrid between the bitter orange and the sweet orange tree that is cultivated.
Paraguay remains the main grower of petitgrain. Eau de brout usually comes from Tunisia anyway.

Volatility :

Heart/Base

Appearance :

Colorless liquid

Stability :

Esters found in this extract my form their corresponding acid through time.
Terpenes of this oil are subjected to polymerization under the effect of oxydation.

Price Range :

€€€

Aromatherapy :

Informations provided below are taken from reference works in aromatherapy. They are given for information purposes only and can not constitute medical information, nor engage the responsibility of ScenTree.

Bigarade petitgrain has nerve-balancing, antispasmodic properties and is indicated in cases of neuro-vegetative dystonia (tone disorder, muscle tension) and infected acne.
EINECS number :

277-143-2

FEMA number :

2771

Allergens :

IFRA :

This ingredient is not restricted
To learn more about IFRA's standards : https://ifrafragrance.org/safe-use/library
ScenTree is solely responsible for the information provided here.
Do you sell any of the raw materials? Would you like to let our users know?
Send an email to fournisseurs@scentree.co to learn about our advertising opportunities.