Benzyl Propionate
Synthétique
CAS N° :
122-63-4
Fruity > Yellow Fruits > White Flowers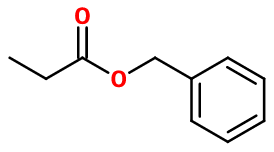 Crédits photo: ScenTree SAS
Other names :

Benzyl Propanoate ; Phenyl methyl propanoate ; Phenyl methyl propionate ; Phenylmethyl propanoate ; Phenylmethyl propionate
Volatility :

Head/Heart
Uses in perfumery :

Benzyl Propionate is used in all types of perfumes, for the contribution of a fruity and tutti frutti effect (more used than benzyl acetate for this purpose). Used in yellow, exotic and red fruit, floral-jasmine and ambery notes.
Natural availability :

Benzyl Propionate is present in trace amounts in Champaca Absolute or in melon for example, although it is not extracted in its natural state.
Year of discovery :

Data not available.
Other comments :

Benzyl Propionate can be compared to Isoamyl Propionate, as they both have a jasmine facet.
Price Range :

€€
Stability :

May form propionic acid through time under the effect of heat.
Most of the time, the occurrence of a benzenic cycle in a molecule causes a coloration of this molecule through time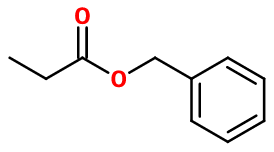 Crédits photo: ScenTree SAS
Molecular formula :

C10H12O2

Molecular Weight :

164,2 g/mol

Density :

1,03

Flash Point :

96°C

Fusion Point :

Donnée indisponible.
Appearance :

Colorless liquid

Log P :

-0,3

Boiling Point :

222°C

Detection Threshold :

Donnée indisponible.
Synthesis route :

Benzyl Propionate is synthesized by an esterification between propanoic acid and Benzyl Alcohol. This reaction must be catalysed by a strong concentrated acid such as sulfuric acid.
Synthesis precursor :

Benzyl Propionate is not a precursor to the synthesis of another compound of olfactory interest.
Isomerism :

Phenyl Ethyl acetate and Styrallyl acetate are constitution isomers of Benzyl Propionate. Nevertheless, Phenyl Ethyl acetate is more rosy and honeyed, and Styrallyl acetate is greener and more fruity, reminiscent of rhubarb.
EINECS number :

204-559-3

FEMA number :

2150

JECFA number :

842

FLAVIS number :

09.132

Allergens :

This ingredient does not contain any allergen.

IFRA :

This ingredient is not restricted
To learn more about IFRA's standards : https://ifrafragrance.org/safe-use/library
ScenTree is solely responsible for the information provided here.
Do you sell any of the raw materials? Would you like to let our users know?
Send an email to fournisseurs@scentree.co to learn about our advertising opportunities.