Benzyl acetate
Naturelle - Synthétique
CAS N° :
140-11-4
Floral > White Flowers > Solar > Benzyl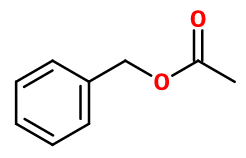 Crédits photo: ScenTree SAS
Other names :

Phenylméthyl acetate ; Acetoxytoluene ; Benteine ; Benzyl Ethanoate ; Acetic acid benzyl ester ; Acetic phenyl methyl ester ; Benzene methanol acetate ; Benzene methanol ethanoate ; Benzyl alcohol acetate
Volatility :

Head
Uses in perfumery :

Benzyl acetate is used in floral reconstructions, especially in jasmine, ylang-ylang and monoï notes.
Year of discovery :

Discovered in 1853. Benzyl acetate was first isolated from jasmine absolute during the 10's by german scientists Albert Hesse and Friedrich Müller, because this extract contains 20 to 35% of this molecule.
Other comments :

Benzyl acetate has a different polarity than Benzylacetone. However, both molecules have a very similar smell. This is the case of several esters, correlated with their analogous ketone.
Price Range :

€
Stability :

acetates may form acetic acid through time.
Most of the time, the occurrence of a benzenic cycle in a molecule causes a coloration of this molecule through time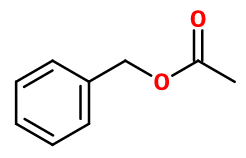 Crédits photo: ScenTree SAS
Molecular formula :

C9H10O2

Molecular Weight :

150,18 g/mol

Density :

1,1

Flash Point :

91°C

Fusion Point :

-51°C
Appearance :

Colorless liquid

Log P :

1,96

Boiling Point :

206°C

Detection Threshold :

Varie entre 2 et 270 ppb (0,000027%)
Synthesis route :

Nowadays, Benzyl acetate is synthesized by an esterification reaction from acetic acid and Benzyl Alcohol, in the presence of an acid catalyst such as concentrated sulfuric acid.
Synthesis precursor :

Benzyl acetate is not a precursor to the synthesis of another compound of olfactory interest.
Isomerism :

Para-Cresyl acetate is a constitutional isomer of Benzyl acetate. Both have the same formula, but para-Cresyl acetate is much more animalic and less floral-jasmine than Benzyl acetate.
EINECS number :

205-399-7

FEMA number :

2135

JECFA number :

23

FLAVIS number :

09.014

Allergens :

This ingredient does not contain any allergen.

IFRA :

This ingredient is not restricted
To learn more about IFRA's standards : https://ifrafragrance.org/safe-use/library
ScenTree is solely responsible for the information provided here.