Styrallyl acetate
Synthétique
CAS N° :
93-92-5
Fruity > Green Fruits > Green > Zesty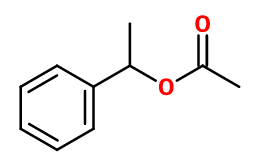 Crédits photo: ScenTree SAS
Other names :

Styrallyl acetate ; 1-Phenyl Ethyl acetate ; Styrallyl ethyl ester ; Acetic acid phenyl ethyl ester ; Methyl benzyl acetate ; Styrallyl ethanoate ; Methyl phenyl carbinyl acetate ; Styryl allyl acetate ; Gardenol
Volatility :

Head
Uses in perfumery :

Styrallyl acetate is used in rhubarb, gardenia and tuberose notes. Gives an attack to rosy notes. Widely used in both men and women perfumery for a modern look and to dry out top notes.
Natural availability :

Styrallyl acetate is not available in its natural state.
Year of discovery :

1911
Other comments :

Styrallyl acetate is reminiscent of rhubarb for most people. It brings a more zesty note, closing it to a molecule like Rhubafuran®, more than a more sulfuric material as Rhubofix®.
Styrallyl acetate is a major key ingredient in modern perfumery, bringing a fruity, green and pleasant effect from the top, leading to an explosive and attractive head note.
Price Range :

€
Stability :

acetates may form acetic acid through time. Aromatic molecules are said to be chromophorous. This means that they may color under the effect of light.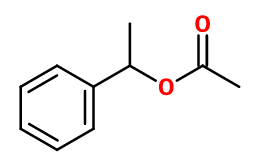 Crédits photo: ScenTree SAS
Molecular formula :

C10H12O2

Molecular Weight :

164,2 g/mol

Density :

1,025

Flash Point :

95°C

Fusion Point :

-60°C
Appearance :

Colorless liquid

Log P :

2,5

Boiling Point :

212°C

Detection Threshold :

Donnée indisponible.
Synthesis route :

Styrallyl acetate results from an esterification reaction between 1-phenylethanol and acetic acid or acetic anhydride in the presence of an acid catalyst.
Synthesis precursor :

Styrallyl acetate is not a precursor to the synthesis of another compound of olfactory interest.
Isomerism :

Styrallyl acetate has an asymmetric carbon. Its (R) enantiomer has a very floral-jasmine smell, close to gardenia and fruity. The (S) enantiomer is closer to strawberry and has a green and fresh note. In perfumery, the racemic mixture of these two enantiomers is the only one that is used. Phenyl Ethyl acetate and Benzyl Propionate are constitution isomers of Styrallyl acetate. Nevertheless, Phenyl Ethyl acetate is more rosy and honeyed, and Benzyl Propionate is more floral, reminiscent of jasmine and pear.
EINECS number :

202-288-5

FEMA number :

2684

JECFA number :

801

FLAVIS number :

09.178

Allergens :

This ingredient does not contain any allergen.

IFRA :

This ingredient is not restricted
To learn more about IFRA's standards : https://ifrafragrance.org/safe-use/library
ScenTree is solely responsible for the information provided here.