Ethyl acetate
Naturelle - Synthétique
CAS N° :
141-78-6
Fruity > Green Fruits > Etheric Solvent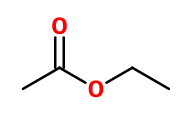 Crédits photo: ScenTree SAS
Other names :

Ethyl Ethanoate ; Acetic acid ethyl ester ; Acetic ester ; Acetoxyethane ; Vinegar naphtha
Volatility :

Head
Uses in perfumery :

Ethyl acetate is used to add a top note to a fruity or citrus note. Allows to build green fruit accords such as pear or to reproduce liquor notes.
Natural availability :

Ethyl acetate is the most common aromatic compound in fruits. It can be extracted from many fruits and is present up to 11% in the essential oil of red mangrove wood, found in the maritime marshes.
Year of discovery :

Data not available.
Other comments :

Data not available.
Price Range :

€
Stability :

acetates may form acetic acid through time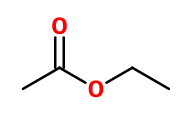 Crédits photo: ScenTree SAS
Molecular formula :

C4H8O2

Molecular Weight :

88,11 g/mol

Density :

0,905

Flash Point :

-4°C

Fusion Point :

-84°C
Appearance :

Colorless liquid

Log P :

0,73

Boiling Point :

77°C

Detection Threshold :

Le seuil de détection de l'Acétate d'Ethyle varie grandement selon les personnes, Il peut atteindre 5 ppb (0,0000005%) comme 5 ppm (0,0005%) selon les cas,
Synthesis route :

Ethyl acetate can be obtained synthetically by an esterification reaction of acetic acid or acetic anhydride with ethanol, in the presence of an acid catalyst.
Synthesis precursor :

Ethyl acetate is not a precursor to the synthesis of another compound of olfactory interest.
Isomerism :
EINECS number :

205-500-4

FEMA number :

2414

JECFA number :

27

FLAVIS number :

09.001

Allergens :

This ingredient does not contain any allergen.

IFRA :

This ingredient is not restricted
To learn more about IFRA's standards : https://ifrafragrance.org/safe-use/library
ScenTree is solely responsible for the information provided here.
Do you sell any of the raw materials? Would you like to let our users know?
Send an email to fournisseurs@scentree.co to learn about our advertising opportunities.