4-Vinyl Guaiacol
Naturelle - Synthétique
CAS N° :
7786-61-0
Woody > Balsamic > Smoky Woods > Eugenol,spicy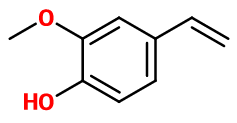 Crédits photo: ScenTree SAS
Other names :

4-ethenyl-2-methoxyphenol ; 4-hydroxy-3-methoxystyrene ; 3-methoxy-4-hydroxystyrene ; 2-methoxy-4-ethenylphenol ; 2-methoxy-4-vinylphenol ; Ortho-methoxy-para-vinylphenol ; Varamol 106 ; Ortho-methoxy-para-vinylcathecol ; 4-vinylguaiacol
Volatility :

Heart
Uses in perfumery :

4-Vinyl Guaiacol, although used in aromas, can be used in balsamic, spicy, woody and leathery notes in perfumes, for a warm and spicy effect, close to Clove Bud EO, in association with Gaiac Wood EO.
Natural availability :

4-Vinyl Guaiacol is found in numerous current food products (tobacco, coffee and grapes for example), but is over all produced on a natural state thanks to ferulic acid, converted into 4-Vinyl Guaiacol during the alcoholic fermentation of some cereals, including corn. Thus, it can be extracted from it.
Year of discovery :

Data not available.
Other comments :

Data not available.
Price Range :

€€€€
Stability :

Aromatic compounds are chromophorous. This means that they may colour through time or in an alkaline medium.
This molecule behaves as Eugenol in terms of stability.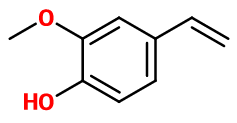 Crédits photo: ScenTree SAS
Molecular formula :

C9H10O2

Molecular Weight :

150,18 g/mol

Density :

1,11

Flash Point :

113°C

Fusion Point :

Donnée indisponible.
Appearance :

Colorless liquid

Log P :

Donnée indisponible,

Boiling Point :

224°C

Detection Threshold :

1 à 3 ppb (0,0000003%)
Synthesis route :

4-Vinyl Guaiacol is synthesized in three steps starting from Vanillin. The first step consists in reacting it with acetic anhydride and sodium acetate, forming 3-methoxy-4-hydroxycinnamic acid, after an acidic hydrolysis. The last step consists in heating this intermediairy product, reacting it with quinoleine and hydroquinone, to decarboxylate the molecule and recover the final product : 4-Vinyl Guaiacol.
Synthesis precursor :

4-Vinyl Guaiacol is not a precursor for the synthesis of another olfactive compound.
Isomerism :

4-Vinyl Guaiacol is used in perfumery for its note and structure close to Gaiac Wood EO and Eugenol. No other positional isomer of this molecule is used in this area. This molecule is a constitutional isomer of Benzyl acetate and Para-Cresyl acetate, but does not share the same olfactive family as these ingredients.
EINECS number :

232-101-0

FEMA number :

2675

JECFA number :

725

FLAVIS number :

04.009

Allergens :

This ingredient does not contain any allergen.

IFRA :

This ingredient is not restricted
To learn more about IFRA's standards : https://ifrafragrance.org/safe-use/library
ScenTree is solely responsible for the information provided here.