Vanillin
Naturelle - Synthétique
CAS N° :
121-33-5
Balsamic Ambery > Vanillic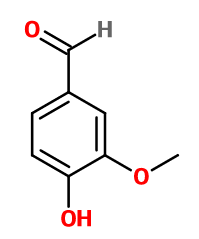 Crédits photo: ScenTree SAS
Other names :

4-hydroxy-3-methoxybenzaldehyde ; 4-formyl-2-methoxyphenol ; 4-hydroxy-meta-anisaldehyde ; Para-hydroxy-meta-methoxybenzaldehyde ; 2-methoxy-4-formyl phenol ; Methyl protocatechuic aldehyde ; Naturalline ; Rhovanil ; V-flavor
Volatility :

Heart/Base
Uses in perfumery :

Vanillin is used in reconstitutions of vanilla, in oriental perfumes and in gourmet notes. Used to bring a sweet and milky effect to a fruity, floral, spicy or woody composition.
Natural availability :

Natural Vanillin is not very much produced, as it has to be extracted from Vanilla Bourbon Absolute (or other origins), which has already a very expensive process of manufacturing. Nevertheless, new processes to obtain biochemical Vanillin allows to obtain a vanillin that can be considered as natural.
Year of discovery :

Discovered in 1874, by chemists Tiemann and Haarmann, by hydrolysis of coniferin with the enzyme emulsin, followed by oxydation of the obtained alcohol with potassium dichromate and sulfuric acid.
Other comments :

75% of the Vanillin that is produced is used for ice cream and chocolate.
The first perfume to contain synthetic vanillin was Jicky in 1889, created by Aimé Guerlain, for Guerlain.
Ethyl Vanilline is more powerful than Vanillin.
Price Range :

€
Stability :

Becomes red under the effect of light. This raw material is not convenient in every functional base : can't be used in a candle or shower gel base.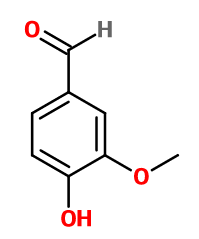 Crédits photo: ScenTree SAS
Molecular formula :

C8H8O3

Molecular Weight :

152,15 g/mol

Density :

1,23

Flash Point :

153°C

Fusion Point :

83°C
Appearance :

White solid

Log P :

1,23

Boiling Point :

285°C

Detection Threshold :

29 ppb à 1,6 ppm (0,00016%) selon les personnes, Son seuil de reconnaissance est quant à lui d'environ 4 ppm,
Synthesis route :

Vanillin is mainly synthesized from lignin or Guaiacol. Since these processes result in 160 kg of waste per kg of finished product, the synthesis of vanillin tends to be replaced by biosynthetic pathways, from rice bran, natural curcumin or natural Eugenol. The synthesis from lignin is made by an alklaine treatment at high temperature and pressure with oxidants. Vanillin is separated from the other compounds obtained by extraction, distillation and crystallization. Another synthetic route starts from Guaiacol, synthesized from Catechol. Guaiacol condenses to glyoxylic acid in a alklaine medium and at room temperature. Vanillin is obtained by acidification and decarboxylation of the reaction mixture. Another similar process uses Guaiacol and formaldehyde, to obtain the ortho and para-vanillic alcohols. Then, a catalytic oxidation (with palladium and bismuth) allows to obtain Vanillin, separated from the other reaction products by crystallization. Using an excess of formaldehyde involves an oxidation and decarboxylation step, always to obtain Vanillin as the final product. Nowadays, several production processes using biochemistry consist in a bioconversion of ferulic acid, Isoeugenol or Eugenol, using bacteria, fungi and plant cells capable of transforming these compounds.
Synthesis precursor :

Vanillin is a precursor to the synthesis of several compounds of olfactory interest. Addition reactions can be carried out on its aromatic ring. A catalytic hydrogenation allows to synthesize Vanillic Alcohol. Several esterifications are possible by exploiting the alcohol function of the molecule (as in the synthesis of Isobutavan®), as well as aldol condensation by exploiting the aldehyde function.
Isomerism :

Vanillin is a constitutional isomer of Methyl Salicylate. Although close structurally, Methyl Salicylate has a much fruitier, more floral and powerful smell than Vanillin.
EINECS number :

204-465-2

FEMA number :

3107

JECFA number :

889

FLAVIS number :

05.018

Allergens :

This ingredient does not contain any allergen.

IFRA :

This ingredient is not restricted
To learn more about IFRA's standards : https://ifrafragrance.org/safe-use/library
ScenTree is solely responsible for the information provided here.