Terpinyl acetate
Naturelle - Synthétique
CAS N° :
80-26-2
Citrus > Zesty > Bergamot > Agrestic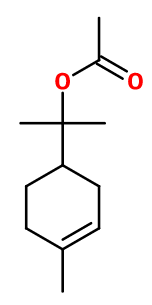 Crédits photo: ScenTree SAS
Other names :

2-(4-methyl-1-cyclohex-3-enyl)propan-2-yl acetate ; Terpenyl acetate ; Terpinyl ethanoate ; Terpinyl ethanoate ; Lindenyl acetate ; Para-menthene-8-yl acetate
Volatility :

Head
Uses in perfumery :

Terpinyl acetate is used to reproduce bergamot at a lower cost, as its smell is so close to linalyl acetate, but more associated with cheap perfumes.
Natural availability :

Terpinyl acetate is present in a large quantity in certain varieties of Cardamom EO, Laurel EO, Clary Sage EO and Red Thyme EO, from which it can be extracted in its natural state.
Year of discovery :

Data not available.
Other comments :

In terms of smell, Terpinyl acetate is to be compared with Linalyl acetate and Menthanyl acetate. It brings an additional sweet facet.
Price Range :

€€
Stability :

acetates may form acetic acid through time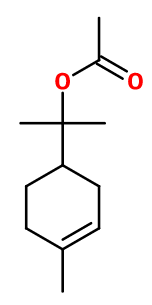 Crédits photo: ScenTree SAS
Molecular formula :

C12H20O2

Molecular Weight :

196,29 g/mol

Density :

0,96

Flash Point :

101°C

Fusion Point :

-20°C
Appearance :

Colorless liquid

Log P :

4,4

Boiling Point :

232°C

Detection Threshold :

2,5 ppm (0,00025%)
Synthesis route :

The synthesis of Terpenyl acetate can be made by esterification of alpha-Terpineol in the presence of acetic acid or acetic anhydride, but also from alpha-Pinene which is easily extractable naturally, in two steps. Plunging alpha-Pinene in an aqueous acidic medium, converts it to 1,8-terpin with a 90% yield. When this molecule is placed in an acid medium, alpha-Terpineol and its derivatives are formed, including Terpenyl acetate. Then, it is removed from the mixture by fractional distillation.
Synthesis precursor :

Terpenyl acetate is not a precursor to the synthesis of another compound of olfactory interest.
EINECS number :

201-265-7

FEMA number :

3047

JECFA number :

368

FLAVIS number :

09.015

Allergens :

This ingredient does not contain any allergen.

IFRA :

This ingredient is not restricted
To learn more about IFRA's standards : https://ifrafragrance.org/safe-use/library
ScenTree is solely responsible for the information provided here.
Do you sell any of the raw materials? Would you like to let our users know?
Send an email to fournisseurs@scentree.co to learn about our advertising opportunities.