Isobornyl acetate
Naturelle - Synthétique
CAS N° :
125-12-2
Woody > Coniferous > Balsamic > Camphoric > Berries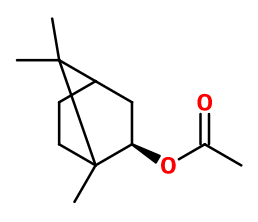 Crédits photo: ScenTree SAS
Other names :

Pichtosine® ; (1R,4S,6R)-1,7,7-trimethyl-6-bicyclo[2.2.1]heptanyl acetate ; Acetic acid isobornyl ester ; Isoborneol acetate ; 2-camphanyl acetate exo
Volatility :

Head
Uses in perfumery :

Isobornyl acetate is used in fougere, woody, red fruits notes to give a blackcurrant effect. Useful in incense notes. Used in all types of perfumery, but especially in detergents.
Natural availability :

Isobornyl acetate is present in every natural raw material that contains Bornyl acetate (Scots Pine EO among others). Thus, it can easily be extracted in its natural state.
Year of discovery :

Data not available.
Other comments :

The smell of Isobornyl acetate is close to natural pines, as it is a blend of the facets we can find in these extracts : from the balsamic facet of Scots Pine Absolute to the camphorated facet of Siberian Pine EO. It remains more artificial and foody.
Price Range :

€
Stability :

acetates may form acetic acid through time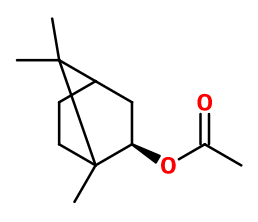 Crédits photo: ScenTree SAS
Molecular formula :

C12H20O2

Molecular Weight :

196,29 g/mol

Density :

0,983

Flash Point :

89°C

Fusion Point :

Donnée indisponible.
Appearance :

Colorless liquid

Log P :

3,86

Boiling Point :

231°C

Detection Threshold :

Donnée indisponible.
Synthesis route :

Isobornyl acetate is an ester synthesized in two possible ways: either by esterification of acetic acid or acetic anhydride with Isoborneol, in the presence of an acid catalyst, or by treatment of Camphene in an acid medium that contains acetic acid. Following this process, a racemic mixture of the two isomers of this ester is obtained.
Synthesis precursor :

Isobornyl acetate is used as an intermediate to the synthesis of Camphor.
Isomerism :

Isobornyl acetate contains an asymmetric carbon. However, it is still the racemic mixture that is used in perfumery. Geranyl acetate, Neryl acetate, Linalyl acetate and Terpenyl acetate are isomers of Isobornyl acetate. However, the first two are closer to pear and rose, while the other two are reminiscent of Bergamot EO.
EINECS number :

204-727-6

FEMA number :

2160

JECFA number :

1388

FLAVIS number :

09.218

Allergens :

This ingredient does not contain any allergen.

IFRA :

This ingredient is not restricted
To learn more about IFRA's standards : https://ifrafragrance.org/safe-use/library
ScenTree is solely responsible for the information provided here.
Do you sell any of the raw materials? Would you like to let our users know?
Send an email to fournisseurs@scentree.co to learn about our advertising opportunities.