Tea Absolute Colourless
Naturelle
CAS N° :
84650-60-2
Balsamic Ambery > Coumarinic > Grassy > Almondy > Tobacco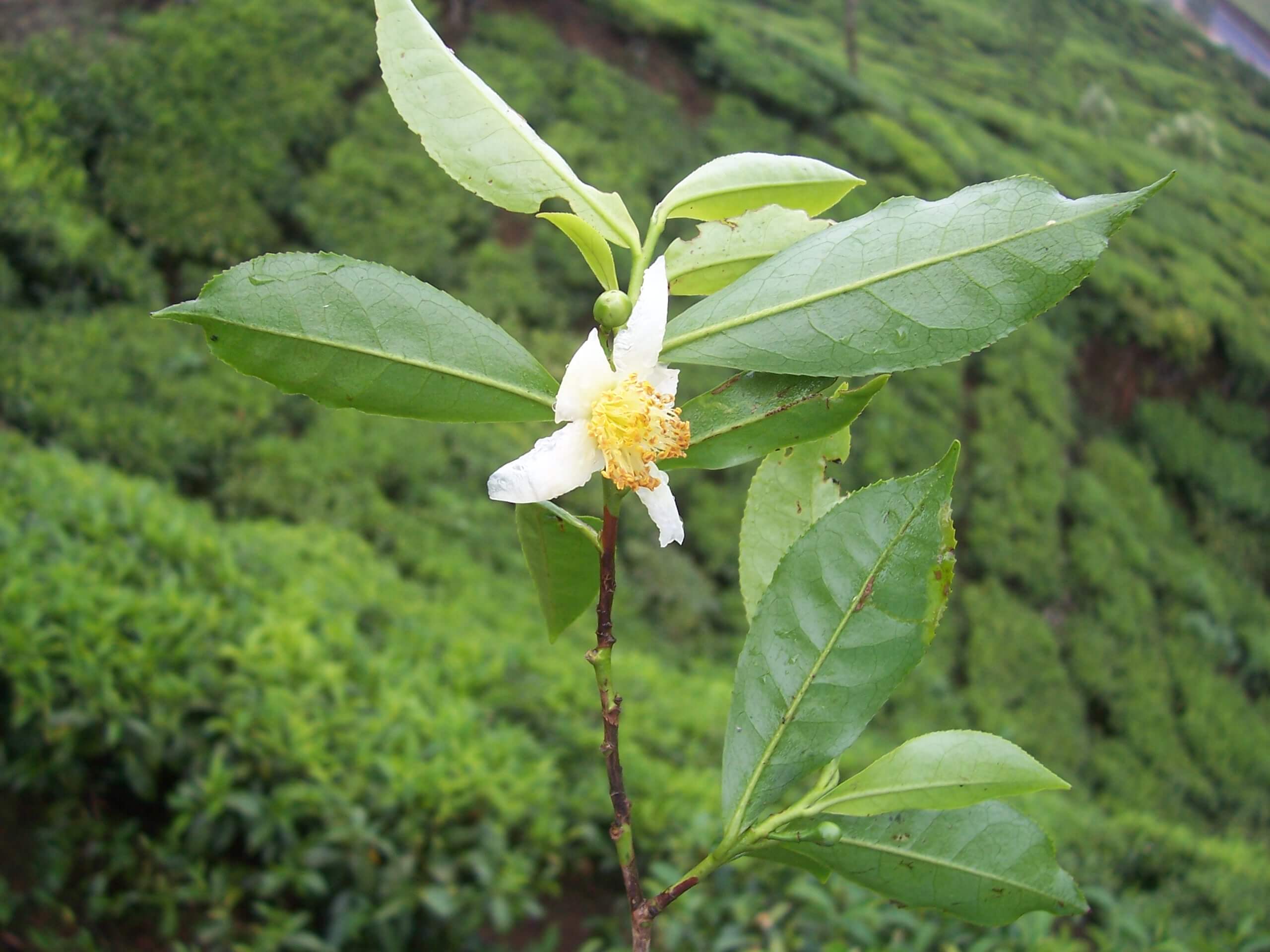 Crédits photo: ScenTree SAS
Latin name :

Camellia sinensis
Botanical profile :

Tea designates the leaves of a shrub belonging to the Theaceae family and the genus Camellia.
Geographic origin :

Originally from China, the tea plant spread throughout Asia, particularly in India and Mauritius, thanks to Robert Fortune (an Englishman), during the Opium War. Long before that, around the seventh century, Japan also acquired this tree for its local production.
Today, China and India are the major tea producers.
Chemotypes :

The origin of the different species of tea plant is uncertain. The species Camellia sinensis is the most pread one and originates from China. Three other species are less widespread: Camellia assamica (India), Camellia taliensis (Golden Triangle) and Camellia nitidissima (Guangxi Province, China). Each species also has many botanical varieties, called ''cultivars '', whose names are often only known by professionals or well-informed amateurs, except in Japan (e.g. Goko tea, used to make matcha or gyokuro tea).
The notion of ''variety '' of tea is included in the way they are treated. Depending on the process, the olfactory and gustatory impact is not the same:
Black tea (or red tea) is more woody, ripe fruits, rosy, honeyed, but its smell depends on its region of culture and on the weather.
Green tea has a dry fruits and cooked plant smell, pyrogenic and floral-magnolia.
Oolong tea (blue tea) has a very varied aromatic range, from rosy to woody, yellow fruits-like, etc.
White tea is earthy-patchouli, even minty for some, or fruity-apricot. However, it is less powerful.
Yellow tea is produced in very low quantity (only in China) and has the same notes as green tea, with additional notes of hemp and linen (due to the balottins in which it is smothered).
Ripe tea has notes of mushroom, undergrowth, bark, is sometimes floral-green and aromatic.
Extraction process :

In 2018, Chinese tea production reached 5,896,644 tons of fresh leaves!
Most of the time, tea is grown on terraces in the countries where it is cultivated. It needs steep slopes and good drainage to grow. Plants are propagated by cutting and grafting. The tea plant reaches maturity after four years: this is when its crop yield is the best. The tree is pruned to human height.
Cultivation is done all year round, manually and mechanically, in China, Japan, Taiwan ... for the most beautiful crus the harvest is carried out manually.. Harvesting is done in the morning or in the early afternoon, to avoid evaporation of the essential oil. Each picker (mainly women) is paid according to their harvest yield (20 kg of leaves per day maximum in the case of mature trees).
The leaves are then weighed and taken to the plant to begin processing.
For green tea: it is roasted at 100°C in a wok in China, and steamed in Japan. This stops the action of enzymes, to avoid oxidation of the leaves. The leaves are then rolled so that the EO is released for the infusion. They are then dried (in heated rooms, reducing their water content to 5 to 6%) sorted and packed.
Oolong tea (or blue tea): It is floundered in order to soften the leaves, the oxidation process starts at this point. Sweating the leaves in open air is a critical step, it will partially define the aromatic and taste profile. The duration of this step is variable, in order to modify and refined the degree of oxidation. The leaf is then roasted, rolled and dried.
Black tea: is the most oxidized (90 to 95%). As for an oolong tea, it wilts ''50%-60% water loss '', then is rolled to break the leaf cells, which will cause an enzymatic reaction responsible for the oxidation. The oxidation can vary from one to five hours. The tea is then desiccated to stop oxidation but also to reduce the humidity level by 4 to 5%. It is then sorted and packed.
White tea has very poor oxidation, being almost instantly dried.
Yellow tea undergoes the same stages as green tea. It is then put in linen bundles before drying, which gives its special notes.
Ripe tea (or dark tea), also called Puerh in the Chinese province of Yunnan, can be distinguished into cooked and raw Puerh. The cooked tea is transformed into black tea and then further aged in heated, damp rooms to deepen its fermentation. The raw tea is dried naturally in the open air until it has matured to a pronounced degree.
To obtain the absolute, the dry leaves of the green tea are treated with hot hexane to extract the odorous compounds and waxes. After evaporation of the solvent by distillation, the concrete is obtained, to be treated in cold alcohol, making the waxes precipitate to obtain the absolute after evaporation of the alcohol. The decoloration of the extract is done by molecular distillation, under vacuum.
Crédits photo: ScenTree SAS

Uses in perfumery :

Less used than Mate Absolute. Tea absolute is used for caracteristic tea note, notes of tobacco, leather, tree notes and dry fruits for example. It bring a natural effect.

Other comments :

Basically considered as a medication, tea was previously used to cure diseases, depending on the variety.


Thank you to Jérémy Tamen, trainer and tea fragrances expert, for his precious help in the writing of this page dedicated to tea.

Volatility :

Heart/Base

Appearance :

Colorless liquid

Stability :

Terpenes found in this extract may polymerize under high oxydation.
Coumarin also is unstable in some alkaline bases.

Price Range :

€€€€

Aromatherapy :

Informations provided below are taken from reference works in aromatherapy. They are given for information purposes only and can not constitute medical information, nor engage the responsibility of ScenTree.

Used as an infusion or in fatty oil (extracted from the seeds of camellia), the tea plant is widespread in the Chinese pharmacopoeia for its antioxidant, anti-infectious virtues, against glycemia and cholesterol, and against weight gain.
EINECS number :

283-519-7

FEMA number :

Donnée indisponible.

Allergens :

IFRA :

This ingredient is restricted by IFRA

Restriction type :

RESTRICTION

Cause of restriction :

DERMAL SENSITIZATION

Amendment :

49

Quantitative limit on the use :

| Cat.1 | Cat.2 | Cat.3 | Cat.4 | Cat.5A | Cat.5B | Cat.5C | Cat.5D | Cat.6 |
| --- | --- | --- | --- | --- | --- | --- | --- | --- |
| 0,037 % | 0,011 % | 0,22 % | 0,21 % | 0,052 % | 0,052 % | 0,052 % | 0,052 % | 0,12 % |
| Cat.7A | Cat.7B | Cat.8 | Cat.9 | Cat.10A | Cat.10B | Cat.11A | Cat.11B | Cat.12 |
| 0,42 % | 0,42 % | 0,022 % | 0,4 % | 1,4 % | 1,4 % | 0,8 % | 0,8 % | No Restriction |

Restriction type :

RESTRICTION QRA

Cause of restriction :

Amendment :

40

Quantitative usage limits :

| Cat.1 | Cat.2 | Cat.3 | Cat.4 | Cat.5 | Cat.6 | Cat.7 | Cat.8 | Cat.9 | Cat.10 | Cat.11 |
| --- | --- | --- | --- | --- | --- | --- | --- | --- | --- | --- |
| 0,01 % | 0,02 % | 0,07 % | 0,2 % | 0,1 % | 0,3 % | 0,04 % | 0,5 % | 2,4 % | 2,5 % | Not Restricted |
To learn more about IFRA's standards : https://ifrafragrance.org/safe-use/library
ScenTree is solely responsible for the information provided here.