CAS N° :
98-86-2
Balsamic Ambery > Almondy > Boozy > Medicinal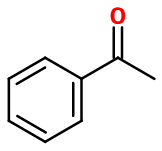 Crédits photo: ScenTree SAS
Other names :

Acetofenone ; Acetyl benzene ; Acetyl benzol ; Benzoyl methide ; 1-phenyl ethanone ; Hypnone ; Methyl phenyl ketone ; Oxophenylethane ; Phenyl methyl ketone
Volatility :

Head
Uses in perfumery :

Acetophenone is used in fruity notes of red berries (cherry among others), in bitter almond notes and in white flowers accords (tuberose, jasmine).
Natural availability :

Acetophenone can be found in Cistus EO, and in the scent principle of Cocoa Absolute, beef, concord grapes and raspberry among others.
Year of discovery :

Data not available.
Other comments :

Data not available.
Price Range :

€€
Stability :

Stable in perfumes and in diverse functional bases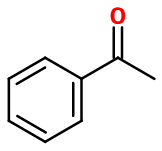 Crédits photo: ScenTree SAS
Molecular formula :

C8H8O

Molecular Weight :

120,15 g/mol

Density :

1,027

Flash Point :

81°C

Fusion Point :

20°C
Appearance :

Colorless liquid

Log P :

1,6

Boiling Point :

202°C

Detection Threshold :

200 ppb,Son seuil de reconnaissance est cependant situé au-delà de quelques ppm,
Synthesis route :

Acetophenone is obtained by synthesis in the Hock process, or cumene-phenol process. It is recovered as a by-product of this reaction, by distillation of the reaction medium, having a high boiling point. This process consists in synthesizing phenol from benzene, propylene and oxygen. It is also used to synthesize cumene (by-product) and acetone (final product).
Synthesis precursor :

Acetophenone is used for the synthesis of Phenyl Ethyl Alcohol.
Isomerism :

Acetophenone is a constitutional isomer of Phenyl Acetic Aldehyde, which has a rosy and honey smell. These two molecules has a very similar smell.
EINECS number :

202-708-7

FEMA number :

2009

JECFA number :

806

FLAVIS number :

07.004

Allergens :

This ingredient does not contain any allergen.

IFRA :

This ingredient is not restricted
To learn more about IFRA's standards : https://ifrafragrance.org/safe-use/library
ScenTree is solely responsible for the information provided here.
Do you sell any of the raw materials? Would you like to let our users know?
Send an email to fournisseurs@scentree.co to learn about our advertising opportunities.