Syringa Aldehyde
Synthétique
CAS N° :
104-09-6
Floral > White Flowers > Solar > Honeyed > Animalic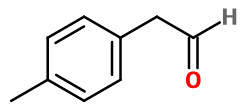 Crédits photo: ScenTree SAS
Other names :

Syringua aldehyde ; Seringa aldehyde ; 4-methylbenzene acetaldehyde ; Lilac acetaldehyde ; Para-methylbenzene acetaldehyde ; Syringaldehyde ; Syringa aldehyde ; 2-(4-methylphenyl)acetaldehyde ; Para-tolyl acetaldehyde
Volatility :

Heart
Uses in perfumery :

Syringa Aldehyde is used for mimosa accords, and for its honey and powdery facet in floral notes, also bringing an animalic facet.
Natural availability :

Syringa Aldehyde is found in corn oil in small quantity, not allowing to use dit in its natural state.
Year of discovery :

Data not available.
Other comments :

Data not available.
Price Range :

€€€€€
Stability :

Aldehydes can form their diethylacetal in alcoholic stability, with not great impact on their smell. They can react with nitrogen-containing compounds as Methyl Anthranilate or Indol.
Aromatic compounds are chromophorous. They can cause coloring problems, especially in alkaline bases.
Very unstable in acidic bases (detergents and antiperspirants), very alkaline bases (liquid bleach), but stable in shampoos and soaps.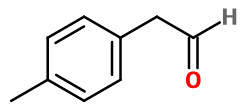 Crédits photo: ScenTree SAS
Molecular formula :

C9H10O

Molecular Weight :

134,18 g/mol

Density :

1,032

Flash Point :

70°C

Fusion Point :

Donnée indisponible.
Appearance :

Colorless liquid

Log P :

2,21

Boiling Point :

Donnée indisponible.

Detection Threshold :

Donnée indisponible.
Synthesis route :

Syringa Aldehyde can be synthesized from para-methylbenzaldehyde, by reacting with a random chloroacetate. This step has to be followed by an acidic hydrolysis of the obtained glycidate, with a subsequent decarboxylation.
Synthesis precursor :

Syringa Aldehyde is not used for the synthesis of another compound of olfactive interest.
Isomerism :

Syringa Aldehyde has two positional isomers : ortho-methyl benzyl acetaldehyde and meta-methyl benzyl acetaldehyde. Both are not used in perfumery. Syringa Aldehyde also is a constitutional isomer of Cinnamic Alcohol, although it does not have the same smell.
EINECS number :

203-173-2

FEMA number :

3071

JECFA number :

1023

FLAVIS number :

05.042

Allergens :

This ingredient does not contain any allergen.

IFRA :

This ingredient is not restricted
To learn more about IFRA's standards : https://ifrafragrance.org/safe-use/library
ScenTree is solely responsible for the information provided here.
Do you sell any of the raw materials? Would you like to let our users know?
Send an email to fournisseurs@scentree.co to learn about our advertising opportunities.