Salicylaldehyde
Naturelle - Synthétique
CAS N° :
90-02-8
Balsamic Ambery > Almondy > Coumarinic > Spicy > Medicinal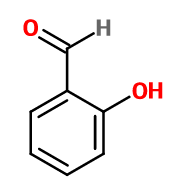 Crédits photo: ScenTree SAS
Other names :

Salicylic Aldehyde ; 2-hydroxybenzaldehyde ; 2-formyl phenol ; Salicylal
Volatility :

Head/Heart
Uses in perfumery :

Salicylaldehyde is used in warm, almond and coumarinic notes.
Natural availability :

Salicylaldehyde is found naturally in small quantities in Ceylon Cinnamon EO.
Year of discovery :

Data not available.
Other comments :

Salicylaldehyde is produced by certain insects.
Price Range :

€€
Stability :

Aldehydes may form diethylacetals in alcoholic perfumes, with no real impact on their smell
Most of the time, the occurrence of a benzenic cycle in a molecule causes a coloration of this molecule through time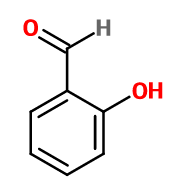 Crédits photo: ScenTree SAS
Molecular formula :

C7H6O2

Molecular Weight :

122,12 g/mol

Density :

1,146

Flash Point :

78°C

Fusion Point :

2°C
Appearance :

Colorless liquid

Log P :

1,66

Boiling Point :

197°C

Detection Threshold :

30 ppb (0,000003%)
Synthesis route :

Salicylaldehyde is synthesized by a Reimer-Tiemann reaction, reacting phenol with potash and chloroform. Then, the aldehyde function implants in the ortho position with respect to the alcohol function.
Synthesis precursor :

Salicylaldehyde is the main precursor to Coumarin synthesis by a Perkin reaction with acetic anhydride. It can also form a Schiff base by reaction with Methyl Anthranilate or Indole for example.
Isomerism :

The ortho and meta positional isomers of Salicylaldehyde are little used in perfumery, although they also have a bitter almond, very hot, balsamic and sweet smell.
EINECS number :

201-961-0

FEMA number :

3004

JECFA number :

897

FLAVIS number :

05.055

Allergens :

This ingredient does not contain any allergen.

IFRA :

This ingredient is not restricted
To learn more about IFRA's standards : https://ifrafragrance.org/safe-use/library
ScenTree is solely responsible for the information provided here.
Do you sell any of the raw materials? Would you like to let our users know?
Send an email to fournisseurs@scentree.co to learn about our advertising opportunities.