Indole
Naturelle - Synthétique
CAS N° :
120-72-9
Animalic > White Flowers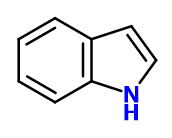 Crédits photo: ScenTree SAS
Other names :

1H-Indol ; Azaindole ; Benzazole ; Benzopyrrole ; 1-azaindene ; Ketole
Volatility :

Base
Uses in perfumery :

Indole is to be used in reconstructions of jasmine, rose and neroli for example. More generally used to bring an animalic facet to all types of accords.
Natural availability :

Indole is present in Grandiflorum Jasmine Absolute, Narcissus Absolute and Orange Blossom Absolute among others, and can be extracted in its natural state. The natural production of Indole, which is the main production method for this molecule, is made by fractional distillation of coal tar, resulting from the pyrolysis of certain woods. The fraction used to recover Indole is the one that is obtained with a temperature between 428 and 500 °F.
Year of discovery :

1869
Other comments :

Data not available.
Price Range :

€€
Stability :

This compound is well known for synthesizing Schiff bases by reacting espacially with aldehydes. These compounds can have an olfactive interest but are still a source of coloration in perfume concentrates and perfumes besides others. This is why this raw material is used is small quantities.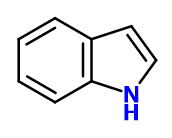 Crédits photo: ScenTree SAS
Molecular formula :

C8H7N

Molecular Weight :

117,15 g/mol

Density :

1,22

Flash Point :

121°C

Fusion Point :

52°C
Appearance :

Pale yellow solid

Log P :

2,14

Boiling Point :

254°C

Detection Threshold :

0,1831 ng/l
Synthesis route :

Indole is a compound of the pyrrole family. These molecules can be synthesized in several ways. In the case of Indole, a Pall-Knorr synthesis is the most suitable. This reaction consists in reacting 2- (2-oxo-cyclohex-3,5-dienyl) acetaldehyde with ammonia. Many other synthetic routes exist specifically for this compound, such as the synthesis of Bischler-Möhlau, of Reissert or the Madelung synthesis among others.
Synthesis precursor :

Indole forms a Schiff base with several aldehydes and ketones such as Citronellal, Dihydrojasmone or Hydroxycitronellal, among others. These Schiff bases are used in perfumery. It can also form several esters in reaction with carboxylic acids.
Isomerism :

Indole does not have any isomer used in perfumery.
EINECS number :

204-420-7

FEMA number :

2593

JECFA number :

1301

FLAVIS number :

14.007

Allergens :

This ingredient does not contain any allergen.

IFRA :

This ingredient is not restricted
To learn more about IFRA's standards : https://ifrafragrance.org/safe-use/library
ScenTree is solely responsible for the information provided here.