Pink Peppercorn EO
Natural
CAS N° :
68917-52-2
Spicy > Cool Spices > Terpenic > Zesty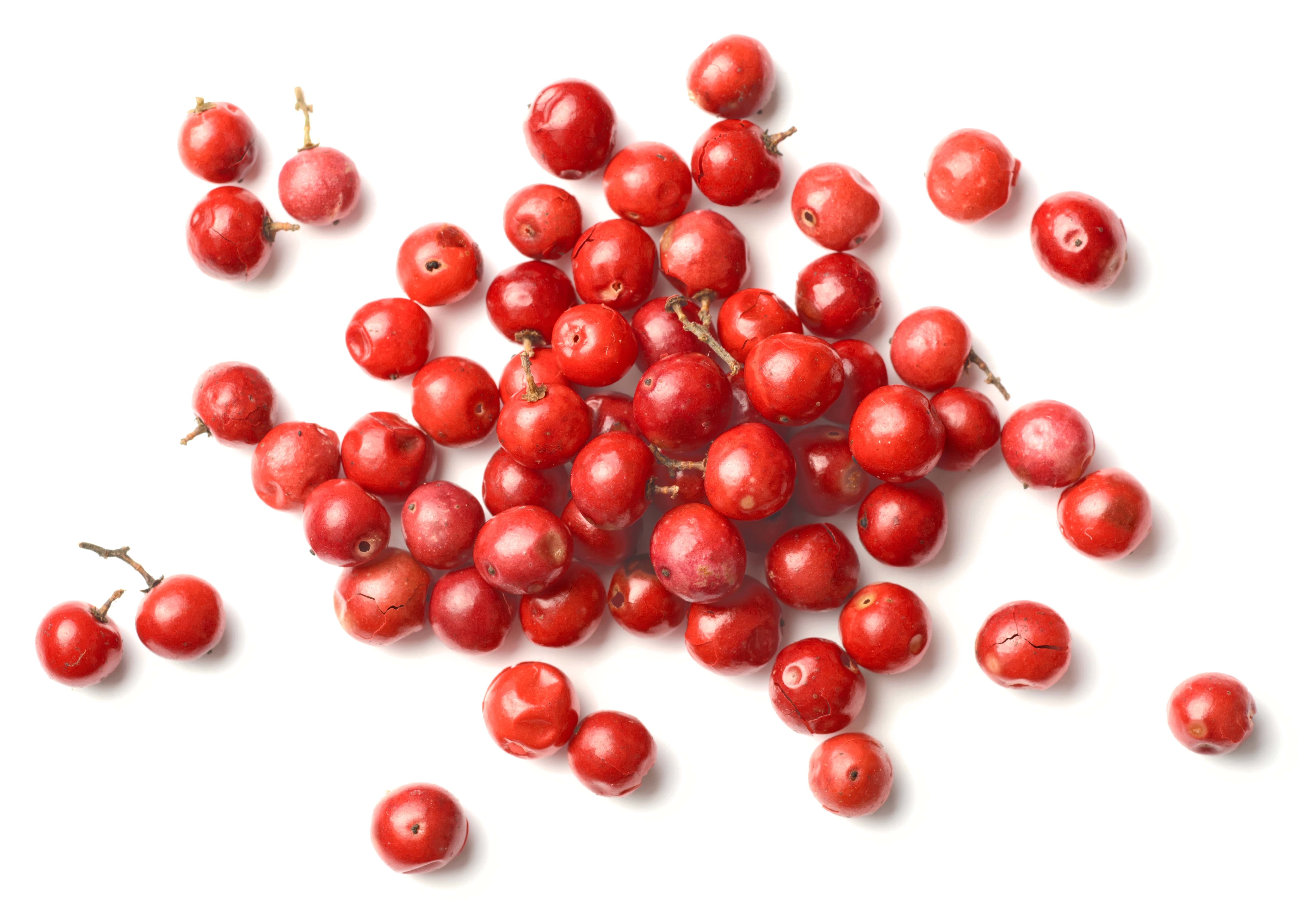 Crédits photo: ScenTree SAS
Latin name :

Schinus terebinthifolia
Botanical profile :

Pink peppercorn is the berry of a false pepper plant, belonging to the Anacardiaceae family and the Schinus genus.
Geographic origin :

Native mainly to South America (Brazil and Peru). Also grown in Madagascar and the USA.
Chemotypes :

There are different varieties of pink pepper, and therefore Pink Peppercorn EO:
Schinus terebinthifolia, native to South America.
Schinus molle, native to California.
The two species are easily recognizable by their size difference, the Schinus molle being much larger, as well as by their rate of Delta-Cadinene for Schinus molle contains only a trace of this compound.
Extraction process :

Introduced to the USA from South America, this specie of pepper was originally growing in the wild. Its invasiveness made it spread over large areas of the country and lead to its culture. Very quickly, its quality matched the one obtained in South America. Male trees are grown separately from female trees.
In May and June, before extraction, the fresh berries are collected by hand and dried. Afterwards, they become darker in colour and they crumple.
Hydrodistillation is used to obtain the essential oil with a 5% yield and a 90% terpenes in its composition. A supercritical CO2 extraction is also doable to obtain a better olfactory quality extract, even though the cost is higher.
Major Components :

Alpha-Pinene (25%)
Myrcene (20-25%)
Alpha-Phellandrene (15-20%)
Delta-Cadinene (≈9%)
D-Limonene (≈15%)
Cadinol (≈7%)
Crédits photo: ScenTree SAS

Uses in perfumery :

Used in spicy notes, eaux fraîches, floral-carnation, hyacinth, rose and woody notes. Used mainly in fine fragrance, because of its cost.

Other comments :

The pink berries are drupes that appears on the flowers of this tree.

Volatility :

Head

Appearance :

Colorless liquid

Stability :

Solubility issues in perfumes
The terpenes identified in this raw material can polymerize when they are oxidized

Price Range :

€€€€

Aromatherapy :

Informations provided below are taken from reference works in aromatherapy. They are given for information purposes only and can not constitute medical information, nor engage the responsibility of ScenTree.

Pink pepper has expectorant virtues (causes coughing) and is recommended in case of bronchitis.
EINECS number :

Data not available.

FEMA number :

3018

Allergens :

IFRA :

This ingredient is not restricted
To learn more about IFRA's standards : https://ifrafragrance.org/safe-use/library
ScenTree is solely responsible for the information provided here.