CAS N° :
55066-48-3
Floral > Rosy > Green > Zesty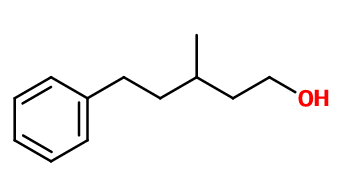 Crédits photo: ScenTree SAS
Other names :

Phenylhexanol ; Mefrosol® ; 3-methyl-5-phenylpentan-1-ol ; Gamma-methyl benzene pentanol ; 3-methyl-5-phenyl pentanol ; Phenyl hexanol ; Phenyl isohexanol ; Phenyxol ; Rose absolute pentanol
Volatility :

Heart
Uses in perfumery :

Phenoxanol® is used in rose notes to replace some of the rose alcohols. Useful in geranium, lily of the valley, light floral and fruity notes.
Natural availability :

Phenoxanol® is not available in its natural state.
Year of discovery :

Data not available.
Other comments :

In comparision to other rosy and green notes of perfumery as Nerolidol or Rosacetol®, Phenoxanol® has a distinctive zesty facet.
Price Range :

€€
Stability :

Most of the time, the occurrence of a benzenic cycle in a molecule causes a coloration of this molecule through time
Unstable in acid cleaners and very alkaline products.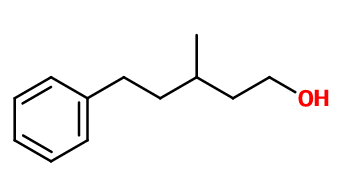 Crédits photo: ScenTree SAS
Molecular formula :

C12H18O

Molecular Weight :

178.27 g/mol

Density :

0.96

Flash Point :

201.2°F (94°C)

Fusion Point :

Data not available.
Appearance :

Colorless liquid

Log P :

2.7

Boiling Point :

Data not available.

Detection Threshold :

Data not available.
Synthesis route :

The synthesis of Phenoxanol® is made from tetrahydro-4-methylene-5-phenylpyran (obtained by a cyclocondensation between benzaldehyde and 3-methyl-3-buten-1-ol, in the presence of para-toluenesulfonic acid), by a catalytic hydrogenation reaction.
Synthesis precursor :

Phenoxanol® is not a precursor to the synthesis of another compound of olfactory interest.
Isomerism :

This compound has an asymmetric carbon. Both enantiomers of the molecule have a similar smell. However, it is the racemic mixture of the two compounds that is used in perfumery. Moreover, Phenoxanol® is a constitutional isomer of Majantol®, although its smell is more aldehydic and aqueous.
EINECS number :

259-461-3

FEMA number :

Data not available.

JECFA number :

Data not available.

FLAVIS number :

Data not available.

Allergens :

This ingredient does not contain any allergen.

IFRA :

This ingredient is not restricted
To learn more about IFRA's standards : https://ifrafragrance.org/safe-use/library
ScenTree is solely responsible for the information provided here.
Do you sell any of the raw materials? Would you like to let our users know?
Send an email to fournisseurs@scentree.co to learn about our advertising opportunities.