Nerolidol
Naturelle - Synthétique
CAS N° :
7212-44-4
Floral > Rosy > Green > Green Fruits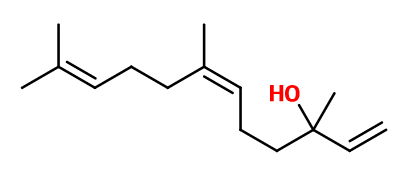 Crédits photo: ScenTree SAS
Other names :

3,7,11-trimethyldodeca-1,6,10-trien-3-ol ; 3-hydroxy-3,7,11-trimethyl-1,6,10-dodecatriene ; Melaleucol ; Methyl vinyl homogeranyl carbinol ; 3,7,11- trimethyl-1,6,10-dodecatrien-3-ol
Volatility :

Head
Uses in perfumery :

Nerolidol is used in all types of perfumery for orange, rose, honeysuckle and lily of the valley notes. Useful in citrus and woody-vanillic accords, to give an airy side and make the link between those two facets.
Natural availability :

Dextrorotatory trans-Nerolidol is the major compound of cabreuva (84%), a shrub of Paraguay. This same dextrorotatory nerolidol is isolated from Dalbergia parviflora, an Asian liana.
Year of discovery :

Discovered in 1923
Other comments :

Comparing it with other rosy and green notes as Phenoxanol® and Rosacetol®, Nerolidol has a distinctive fruity and green note.
Price Range :

€€
Stability :

Terpenes tend to polymerize by oxydation.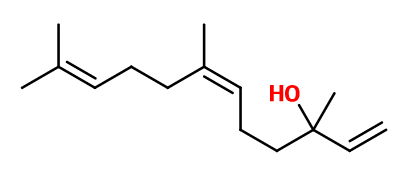 Crédits photo: ScenTree SAS
Molecular formula :

C15H26O

Molecular Weight :

222,37 g/mol

Density :

0,874

Flash Point :

125°C

Fusion Point :

Donnée indisponible.
Appearance :

Colorless liquid

Log P :

5

Boiling Point :

276°C

Detection Threshold :

De l'ordre de 10 ppb à 10 ppm (0,0001%) selon les personnes,
Synthesis route :

Nerolidol is a sesquiterpene, often associated with Linalool, whose synthesis starts from this last compound. Linalool is converted to geranylacetone by reaction with Ethyl Acetoacetate, for example. A condensation of the obtained ketone with acetylene, followed by a Lindlar palladium catalysed hydrogenation allows to obtain Nerolidol.
Synthesis precursor :

Nerolidol can be a precursor to the synthesis of other terpenes, for example by a Diels-Alder reaction. It is also a precursor for the synthesis of Farnesol, following an isomerization process.
Isomerism :

Nerolidol exists as two pairs of enantiomers, as it has an asymmetric carbon and a double bond that gives rise to two diastereoisomers. Synthetic Nerolidol is however a mixture of all these isomers. All have a similar smell, but they do not have the same physicochemical properties.
EINECS number :

230-597-5

FEMA number :

2772

JECFA number :

1646

FLAVIS number :

02.018

Allergens :

This ingredient does not contain any allergen.

IFRA :

This ingredient is not restricted
To learn more about IFRA's standards : https://ifrafragrance.org/safe-use/library
ScenTree is solely responsible for the information provided here.
Do you sell any of the raw materials? Would you like to let our users know?
Send an email to fournisseurs@scentree.co to learn about our advertising opportunities.