Ocimene
Naturelle - Synthétique
CAS N° :
13877-91-3
Undergrowth > Mushroom > Green > Agrestic > Tropical Fruits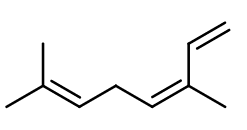 Crédits photo: ScenTree SAS
Other names :

3,7-dimethylocta-1,3,6-triene ; 3,7-dimethyl-1,3,6-octatriene
Volatility :

Head
Uses in perfumery :

Ocimene is used in all types of perfumes, for lavender, floral-green (gardenia), mushroom and fruity-mango notes.
Natural availability :

Ocimene is present in many plants from which it can be extracted. Lavender EO is famous for its Ocimene, as each species does not have the same proportion. Lavender Matherone is a clonal lavender that contains 15% Ocimene and is therefore ideal to isolate the molecule. Nevertheless, synthetic Ocimene is most often used in perfumery.
Year of discovery :

Data not available.
Other comments :

In comparision to 1,3 Octenol, Ocimene has a way more aromatic and green mushroom note.
Price Range :

€€
Stability :

Terpenes tend to polymerize by oxydation.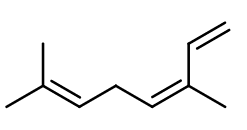 Crédits photo: ScenTree SAS
Molecular formula :

C10H16

Molecular Weight :

136,24 g/mol

Density :

0,801

Flash Point :

56°C

Fusion Point :

Donnée indisponible.
Appearance :

Colorless to amber liquid

Log P :

4,8

Boiling Point :

66°C (à 17 hPa)

Detection Threshold :

Donnée indisponible.
Synthesis route :

Ocimene is a terpene obtained by a pyrolysis of alpha-Pinene. This process simply involves heating the molecule (around 200°C) in order to break a particular bond, thereby forming a new compound.
Synthesis precursor :

Ocimene can be used for the synthesis of other terpenes by a Diels-Alder reaction, or can be hydrogenated to obtain other compounds of olfactory interest.
Isomerism :

Ocimene has a double bond responsible for the existence of two diastereomers of the molecule. The cis isomer is more grassy and the trans isomer is closer to mushrooms. The racemic mixture is most often used in perfumery. Another isomer called Allocimene exists and has a fresher, herbaceous and more terpenic smell than the racemic classic Ocimene. D-Limonene, Myrcene, Pinene and Terpinene are constitutional isomers of Ocimene, and are part of the family of terpenes, although their smell is very far from mushroom and Ocimene.
EINECS number :

237-641-2

FEMA number :

3539

JECFA number :

1338

FLAVIS number :

01.018

Allergens :

This ingredient does not contain any allergen.

IFRA :

This ingredient is not restricted
To learn more about IFRA's standards : https://ifrafragrance.org/safe-use/library
ScenTree is solely responsible for the information provided here.