CAS N° :
9000-45-7
Balsamic Ambery > Balsamic > Leather > Gourmand > Mushroom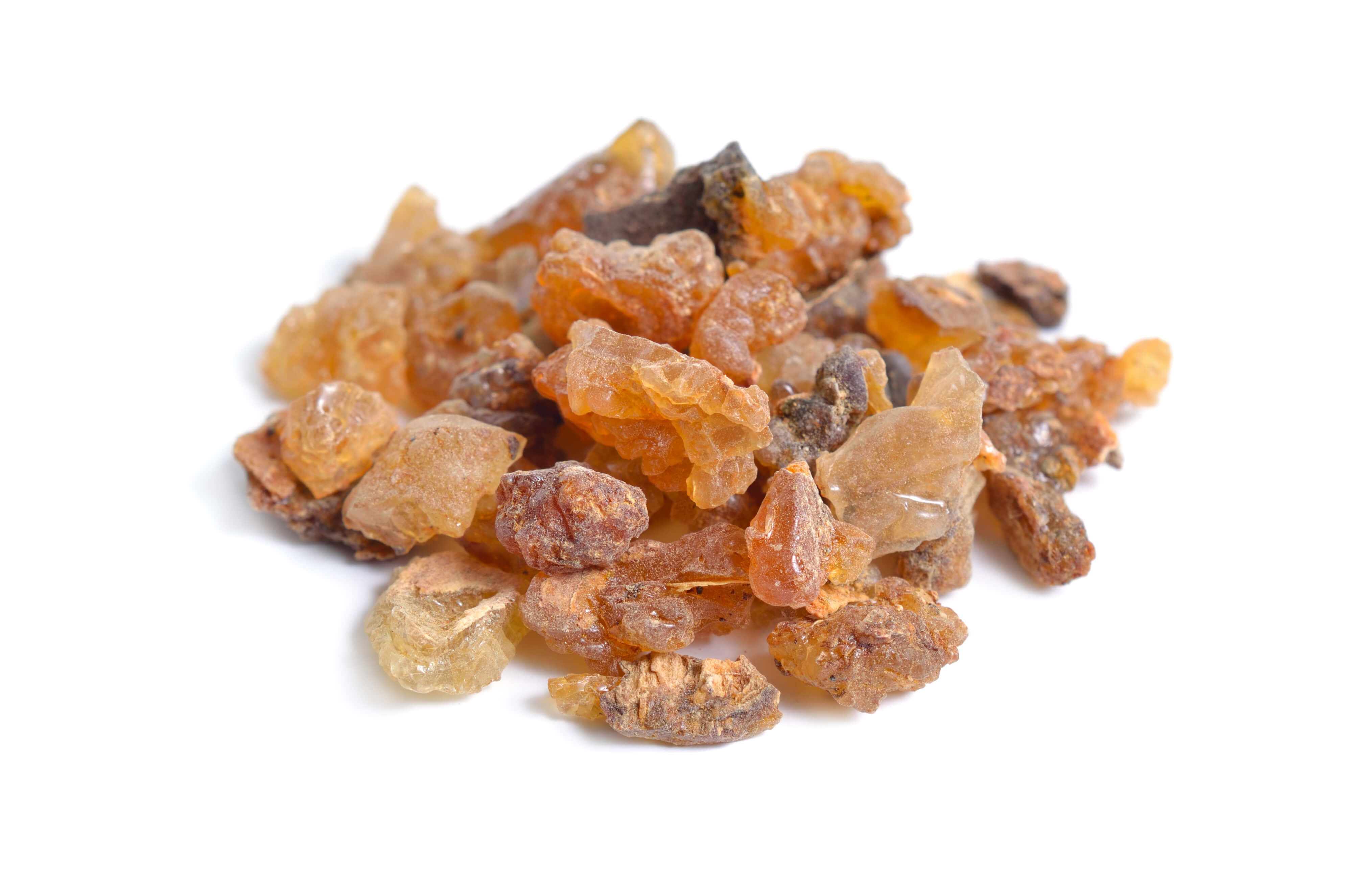 Crédits photo: ScenTree SAS
Latin name :

Commiphora myrrha
Botanical profile :

The myrrh tree is part, like incense EO and elemi EO, of the Burseraceae family, and of the genus Commiphora.
Geographic origin :

Myrrh trees are native to Somalia, Ethiopia and South Africa, and are still cultivated there.
Chemotypes :

Commiphora genus includes about 190 species.
In perfumery, we use Commiphora myrrha (Myrrh Resinoid / Myrrh EO / Myrrh SFE / Myrrh Absolute) grown mainly in North-East Africa.
Like olibanum, the notion of varieties and chemotypes is very blurred.
Extraction process :

Somalia is the main producer of myrrh, as its dry and warm savannas are favourable to the cultivation of this tree.
The exsudation of the resin takes place naturally or by an incision on the tree. The resin becomes red and solidifies when in contact with air, forming the ''myrrh tears ''. These tears are collected with a blade and freed from their impurities. Then, they are exported to Europe where they are extracted.
An essential oil such as a resinoid can be obtained. The resinoid results from the extraction of the resin with alcohol. The alcohol precipitates the waxes out of the resin and keeps only the fragrant principle after a glazing at 32 °F and a filtration, without any further reprocessing. The essential oil is obtained by hydrodistillation of the resin.
It is also possible to obtain a supercritical CO2 extract of myrrh with a superior olfactory quality.
The resinoid may be bleached by distillation.
Major Components :

Alpha-Pinene (45-50%)
D-Limonene (≈9%)
Sabinene (≈6%)
para-Cymene (≈5%)
Alpha-Phellandrene (≈4%)
Plotter(s) : Curzerene
Crédits photo: ScenTree SAS

Uses in perfumery :

Used to provide warmth, hold and trail in amber, leathery, chypre, woody notes or to give more facets to Frankinsense EO and for licorice notes.

Other comments :

In the past, myrrh was used for the gods. In churches, this gum was burned to create a fumigation for the divine. It was also used to clean houses and clothes.

Volatility :

Base

Appearance :

Amber to red resin

Stability :

Solubility issues in perfumes
The terpenes identified in this raw material can polymerize when they are oxidized

Price Range :

€€€

Aromatherapy :

Informations provided below are taken from reference works in aromatherapy. They are given for information purposes only and can not constitute medical information, nor engage the responsibility of ScenTree.

Myrrh is known for its anti-viral, anti-inflammatory properties and is recommended for diarrhea, bronchitis and skin ulcers.
EINECS number :

232-543-6

FEMA number :

2765

Allergens :

IFRA :

This ingredient is not restricted
To learn more about IFRA's standards : https://ifrafragrance.org/safe-use/library
ScenTree is solely responsible for the information provided here.