Gamma-Nonalactone
Synthétique
CAS N° :
104-61-0
Fruity > Lactonic > Yellow Fruits > Coconut > Buttery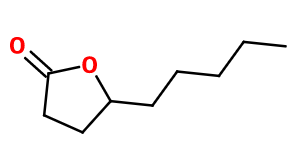 Crédits photo: ScenTree SAS
Other names :

Aldehyde C18 ; Coconut Aldehyde ; 5-pentyloxolan-2-one ; Prunolide ; Abricolin ; Gamma-amyl butyrolactone ; 4-amyl-4-hydroxybutyric acid lactone ; Amylbutyrolactone ; Apricolin ; Coconut aldehyde ; Dihydro-5-pentyl-2(3H)-furanone ; 4-nonalactone ; 1,4-nonalolide ; 1,4-nonanolide ; Gamma-nonanolide ; Gamma-nonyl lactone ; Gamma- pelargolactone ; 4-pentyl butanolide ; 5-pentyl-dihydro-furan-2-one ; 5- pentyloxolan-2-one
Volatility :

Heart
Uses in perfumery :

Gamma-Nonalactone contributes to an exotic, fruity-peach, milky and gourmet facet, in adequation with fruity notes in particular.
Natural availability :

Gamma-Nonalactone is present in several foods and in the Eschweilera coriacea flower, from Central America. However, it is synthetic gamma-Nonalactone which is most often used in perfumery.
Year of discovery :

Data not available.
Other comments :

Among the different lactones used in perfumery, Gamma-Nonalactone is an equilibrium between a coconut and a peach note. In that way, it is close to Nectaryl® and Lactone of cis-Jasmone.
Price Range :

€€
Stability :

Lactones tend to polymerize through time, making them more viscous and leading to a phase shift in alcohol.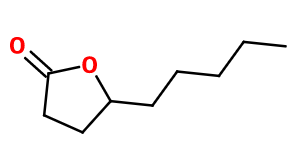 Crédits photo: ScenTree SAS
Molecular formula :

C9H16O2

Molecular Weight :

156,22 g/mol

Density :

0,964

Flash Point :

126°C

Fusion Point :

Donnée indisponible.
Appearance :

Colorless liquid

Log P :

2,5

Boiling Point :

243°C

Detection Threshold :

7 ppb (0,0000007% !),
Synthesis route :

Gamma-Nonalactone is a cyclic lactone synthesized in the same way as other lactones. The reaction between acrylic acid and hexanol, in the presence of a sulfate or an alkaline phosphate, allows to synthesize this molecule. An intramolecular esterification of 4-hydroxynonanoic acid, catalysed by a strong acid such as concentrated sulfuric acid, also allows to obtain this compound. Finally, biochemical synthesis pathways are being studied by producing companies.
Synthesis precursor :

Gamma-Nonalactone is not a precursor to the synthesis of another compound of olfactory interest.
Isomerism :

Gamma-Nonalactone, like other lactones, has an asymmetric carbon. The smell of the two enantiomers of this molecule is similar. The racemic mixture is most often used in perfumery. Isoamyl Butyrate and Allyl Caproate are constitutional isomers of gamma-Nonalactone, but they have a very different butyric and cheesy smell.
EINECS number :

203-219-1

FEMA number :

2781

JECFA number :

229

FLAVIS number :

10.001

Allergens :

This ingredient does not contain any allergen.

IFRA :

This ingredient is not restricted
To learn more about IFRA's standards : https://ifrafragrance.org/safe-use/library
ScenTree is solely responsible for the information provided here.