Farnesene
Naturelle - Synthétique
CAS N° :
502-61-4
Fruity > Green Fruits > Green > Mushroom > Light Flowers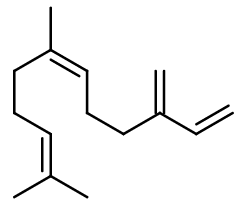 Crédits photo: ScenTree SAS
Other names :

7,11-dimethyl-3-methylene-1,6,10-dodecatriene ; 3,7,11-trimethyl-1,3,6,10-dodecatetraene
Volatility :

Head
Uses in perfumery :

Farnesene is used to make fruity note greener, by bringing a quince note. It also brings a fruity and green note to floral accords.
Year of discovery :

Data not available.
Other comments :

Farnesene belongs to the terpenes family. Including 15 carbon atoms, it is a sesquiterpene, as Beta-Caryophyllene.
Price Range :

€€€
Stability :

Terpenes tend to polymerize under the effect of high oxydation, and are unstable in alkaline and acidic bases.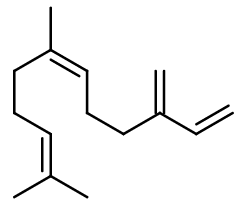 Crédits photo: ScenTree SAS
Molecular formula :

C15H24

Molecular Weight :

204,36 g/mol

Density :

0,861

Flash Point :

110°C

Fusion Point :

Donnée indisponible.
Appearance :

Colorless liquid

Log P :

7,1

Boiling Point :

Donnée indisponible.

Detection Threshold :

Donnée indisponible.
Synthesis route :

Farnesene is rarely synthesized for its use in perfumery. It is usually extracted from plants as apple, perilla seed or ylang-ylang. A synthesis can nevertheless be considered, carrying out a Diels-Alder reaction, as for most terpenes.
Synthesis precursor :

As any terpene, Farnesene can be used for the synthesis of many compounds, but it is not used for the synthesis of a compound used in perfumery.
Isomerism :

Usually, Farnesene is used in perfumery as a mixture of isomers. Nevertheless, some plants contain precise isomers. Thus, Farnesene used in perfumery depends on the pant it is extracted from. For exemple, Ylang-Ylang III contains trans-alpha-Farnesene. Trans-beta-Farnesene is also to be distinguished, and can be found for example in Juniper Berry EO. Being a sesquiterpene, Farnesene is a constitutional isomer of Beta-Caryophyllene, Alpha-Cedrene and Valencene.
EINECS number :

207-948-6

FEMA number :

3839

JECFA number :

1343

FLAVIS number :

01.040

Allergens :

This ingredient does not contain any allergen.

IFRA :

This ingredient is not restricted
To learn more about IFRA's standards : https://ifrafragrance.org/safe-use/library
ScenTree is solely responsible for the information provided here.
Do you sell any of the raw materials? Would you like to let our users know?
Send an email to fournisseurs@scentree.co to learn about our advertising opportunities.