Valencene
Naturelle - Synthétique
CAS N° :
4630-07-3
Aldehydes > Green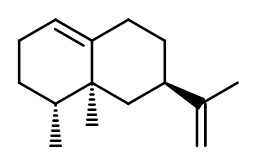 Crédits photo: ScenTree SAS
Other names :

4a,5-dimethyl-3-prop-1-en-2-yl-2,3,4,5,6,7-hexahydro-1H-naphthalene ; 4alpha,10alpha- dimethyl-6beta-isopropyl-delta1,9-octalin ; 5,6-dimethyl-8-(1-methylvinyl)bicyclo[4.4.0]dec-1-ene ; Eremophila-1(10),11-diene ; Octahydrodimethyl methyl vinyl naphthalene
Volatility :

Head
Uses in perfumery :

Valencene is used for aldehydic and citrus notes in small quantities.
Natural availability :

Valencene in its natural state can be extracted from Clary Sage Absolute (up to 3%) or Sweet Orange EO.
Year of discovery :

Data not available.
Other comments :

Valencene is the only terpene with a powerful aldehydic note.
Price Range :

€€
Stability :

Terpenes tend to polymerize by oxydation.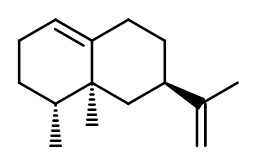 Crédits photo: ScenTree SAS
Molecular formula :

C15H24

Molecular Weight :

204,36 g/mol

Density :

0,92

Flash Point :

100°C

Fusion Point :

Donnée indisponible.
Appearance :

Colorless liquid

Log P :

6,7

Boiling Point :

274°C

Detection Threshold :

Donnée indisponible.
Synthesis route :

Valencene is more often synthesized biochemically using enzymes produced by fungi. The enzyme is called valencene synthase and the most used mushroom is the Schizophyllum commune.
Synthesis precursor :

Valencene is a precursor to the synthesis of Nootkatone by oxidation.
Isomerism :

Caryophyllene, another sesquiterpene, is an isomer of Valencene. Its smell is less aldehydic and more spicy, close to Black Pepper EO.
EINECS number :

225-047-6

FEMA number :

3443

JECFA number :

1337

FLAVIS number :

01.017

Allergens :

This ingredient does not contain any allergen.

IFRA :

This ingredient is not restricted
To learn more about IFRA's standards : https://ifrafragrance.org/safe-use/library
ScenTree is solely responsible for the information provided here.
Do you sell any of the raw materials? Would you like to let our users know?
Send an email to fournisseurs@scentree.co to learn about our advertising opportunities.