Cedryl acetate
Naturelle - Synthétique
CAS N° :
77-54-3
Woody > Cedar > Ambergris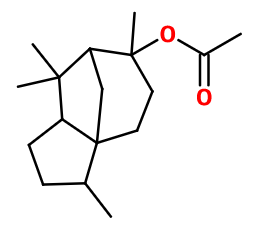 Crédits photo: ScenTree SAS
Other names :

Cedryl acetate ; 1H-3a,7-Methanoazulen-6-ol ; Octahydro-3,6,8,8-tetramethyl acetate ; Acetic acid cedrol ester ; Cedran-8-yl acetate ; 8-beta-H-cedran-8-ol acetate ; Cedranyl acetate ; Cedrenyl acetate crystal
Volatility :

Base
Uses in perfumery :

Cedryl acetate is used in ambergris, coniferous, woody, spicy notes for men's fragrances, orris root and violet notes for women. Also used in leather notes.
Natural availability :

Cedryl acetate can be found in Cedarwood Chinese EO in small proportion and be extracted in its natural state. However, it is not present in other cedar varieties.
Year of discovery :

Data not available.
Other comments :

Cedryl acetate exists under two forms: purely artificial white crystals or a colourless to pale yellow liquid derived from Cedrol when acetylated.
Price Range :

€€
Stability :

Cedryle acetate il relatively stable in perfumes and in various functional bases.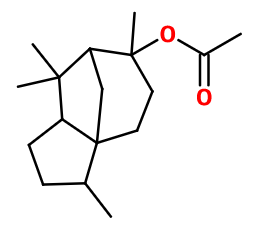 Crédits photo: ScenTree SAS
Molecular formula :

C17H28O2

Molecular Weight :

264,41 g/mol

Density :

0,99

Flash Point :

94°C

Fusion Point :

45°C
Appearance :

White solid

Log P :

6,21

Boiling Point :

>200°C

Detection Threshold :

14,803 ng/l
Synthesis route :

Hemi-synthetic Cedryl acetate can be obtained by acetylating Cedarwood Virginia EO. It is synthesized from Cedrol, sometimes in its natural form derived from the essential oil of Virginia cedar, by an esterification reaction in an acid medium.
Synthesis precursor :

Cedryl acetate is not a precursor to the synthesis of another compound of olfactory interest.
Isomerism :

Cedryl acetate has various asymmetric carbons that gives it positive or negative optical rotation depending on the configuration. Cedryl acetate used in perfumery is a mixture of isomers. Cedryl acetate is also a constitutional isomer of Gaiyl acetate, although they do not share the same smell.
EINECS number :

201-036-1

FEMA number :

--

JECFA number :

Donnée indisponible.

FLAVIS number :

09.171

Allergens :

This ingredient does not contain any allergen.

IFRA :

This ingredient is not restricted
To learn more about IFRA's standards : https://ifrafragrance.org/safe-use/library
ScenTree is solely responsible for the information provided here.