Cedrol
Naturelle - Synthétique
CAS N° :
77-53-2
Woody > Cedar > Leather > Green > Green Fruits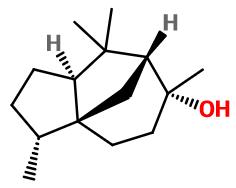 Crédits photo: ScenTree SAS
Other names :

(1S,2R,5S,7R,8R)-2,6,6,8-tetramethyltricyclo[5.3.1.01,5]undecan-8-ol ; Cedar camphor ; (8R)-cedran-8-ol ; Cypress camphor ; (3R-(3alpha,3abeta ; 6alpha,7beta,8aalpha))-octahydro-3,6,8,8-tetramethyl-1H-3a,7-methanoazulen-6-ol
Volatility :

Base
Uses in perfumery :

Cedrol is used in woody, leather and masculine notes and perfumes, to give a dry, ashy and sawdust effect.
Natural availability :

Cedrol is present in a few cedarwood oils, of various species. All species are called ''cedarwood '' because of their content of Cedrol, even if they are not cedarwoods, botanically speaking. Cedarwood Virginia EO contains between 16 and 25% of Cedrol. Cedarwood Texas EO is the one containing the most Cedrol, with 20% minimum. Eventually, Cedarwood Chinese EO can contain 10 to 20% of Cedrol. Cedarwood Atlas EO, coming from Morocco, does not contain Cedrol.
Year of discovery :

Data not available.
Other comments :

Pure Cedrol is a solid. When extracted from cedarwood, Cedrol can be found under a liquid form, mixed with other oily components. It is then very viscous and tends to crystallize easily.
Price Range :

€€€
Stability :

Stable in perfumes and diverse functional bases.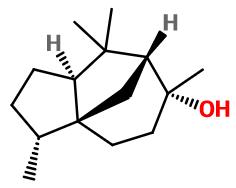 Crédits photo: ScenTree SAS
Molecular formula :

C15H26O

Molecular Weight :

222,37 g/mol

Density :

Donnée indisponible.

Flash Point :

81°C

Fusion Point :

87°C
Appearance :

White crystals

Log P :

5,29

Boiling Point :

273°C

Detection Threshold :

Donnée indisponible.
Synthesis route :

Cedrol is generally extracted from cedarwood oils (cf. ''Natural Occurrence ''). Synthesis of Cedrol is not frequent. Extraction of Cedrol leads to a colored and liquid aspect of the molecule, which is not obtained on a pure state. For natural Cedrol, the percentage of Cedrol contained in the sold product has to be mentioned.
Synthesis precursor :

Cedrol is a precursor to the synthesis of some components used in perfumery. For example, Cedryl acetate is obtained by an esterification reaction involving Acetic Anhydride and Cedrol. Also, a methylation reaction of Cedrol leads to the formation of Cedramber®.
Isomerism :

Cedrol has a few asymmetric carbons. In general, dextrorotatory Cedrol is used in perfumery, because it is the one present in cedarwood oils. Here, we are talking about this enantiomer. Synthetic Cedrol can be a mix of levorotatory and dextrorotatory Cedrol. Cedrol is also a constitutional isomer of Polysantol® and Javanol®, even if their smell is more reminiscent of sandalwood than cedarwood.
EINECS number :

201-035-6

FEMA number :

4503

JECFA number :

2030

FLAVIS number :

02.120

Allergens :

This ingredient does not contain any allergen.

IFRA :

This ingredient is not restricted
To learn more about IFRA's standards : https://ifrafragrance.org/safe-use/library
ScenTree is solely responsible for the information provided here.
Do you sell any of the raw materials? Would you like to let our users know?
Send an email to fournisseurs@scentree.co to learn about our advertising opportunities.