Gaiyl acetate
Naturelle - Synthétique
CAS N° :
134-28-1
Woody > Balsamic > Smoky Woods > Spicy > Grassy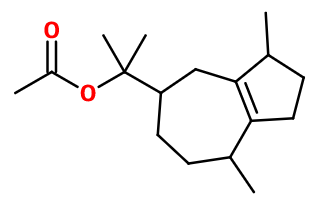 Crédits photo: ScenTree SAS
Other names :

Acetylated Gaiac oil ; Gaiacwood acetate ; Gaiol acetate ; Octahydroazulene acetate
Volatility :

Heart/Base
Uses in perfumery :

Gaiyl acetate is used for woody accords, fougere and leather perfumes. Good for creating ''Christmas '' style atmospheres and for providing a ''comfortable '' woody feeling. Less used in fine fragrance than in consumer products.
Natural availability :

Gaiyl acetate is derived from a natural product because it results from the acetylation of Gaiac Wood EO. This raw material is called ''hemi-synthetic ''.
Year of discovery :

Data not available.
Other comments :

Bulnesol and Gaiol do not originally have the same olfactory power. It is Gaiol, a strong compound, which is responsible for most of the smell of Gaiac Wood EO. In the same way, Gaiyl acetate is more powerful than Bulnesyl acetate.
Several other compounds are present in the mixture obtained after acetylation. These are sesquiterpenes such as Gurjunene, Guaiene, Bulnesene and many others.
Price Range :

€€€
Stability :

acetates may form acetic acid through time.
On the other hand, other sesquiterpenes of the mix may disapear through time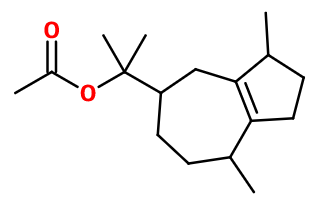 Crédits photo: ScenTree SAS
Molecular formula :

C17H28O2

Molecular Weight :

264,41 g/mol

Density :

0,978

Flash Point :

94°C

Fusion Point :

Donnée indisponible.
Appearance :

Colorless to yellow liquid

Log P :

5,85

Boiling Point :

120°C (à 3 hPa)

Detection Threshold :

Donnée indisponible.
Synthesis route :

Gaiyl acetate is actually the product of the acetylation of Gaiac Wood EO. It is a reaction that consists in associating the alcohols of the essential oil with an acid to make esters. As this essential oil is mainly composed of Bulnesol and Gaiol, the product of this reaction is mainly composed of Gaiyl acetate and Bulnesyl acetate. To improve the yield and shift the equilibrium of this reaction, the producing companies use acetic anhydride, which is a much better option than acetic acid. A catalytic amount of a strong acid such as sulfuric acid is also used to promote a good yield. The molecule rigorously called Gaiyl acetate can be obtained by distilling the acetylated essential oil to isolate the desired molecule from the other molecules of the mixture.
Synthesis precursor :

Gaiyl acetate can be decarboxylated. This means that the molecule is heated very strongly (about 572 °F) to be pyrolyzed and Gaiene is synthesized.
Isomerism :

Gaiyl acetate (exclusively from Gaiol) is a molecule with three asymmetric carbons. In most cases, a mixture of all this molecule's enantiomers is used. Nevertheless, enantiomerically pure qualities of this raw material exist and are used for their olfactive quality. The two major compounds in this mixture, Gaiyl acetate and Bulnesyl acetate, are positional isomers. Their unsaturations are not located in the same place in the same molecular body. Moreover, Gaiyl acetate is a constitutional isomer of Cedryl acetate. Both, however, do not share the same smell.
EINECS number :

205-135-0

FEMA number :

Donnée indisponible.

JECFA number :

Donnée indisponible.

FLAVIS number :

09.808

Allergens :

This ingredient does not contain any allergen.

IFRA :

This ingredient is not restricted
To learn more about IFRA's standards : https://ifrafragrance.org/safe-use/library
ScenTree is solely responsible for the information provided here.
Do you sell any of the raw materials? Would you like to let our users know?
Send an email to fournisseurs@scentree.co to learn about our advertising opportunities.