CAS N° :
19870-74-7
Woody > Ambery wood > Cedar > Ambergris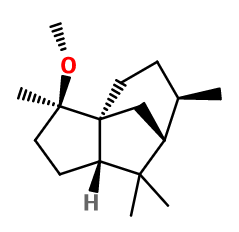 Crédits photo: ScenTree SAS
Other names :

Methyl Cedryl Ether ; (1S,2R,5S,7R,8R)-8-methoxy-2,6,6,8-tetramethyltricyclo[5.3.1.0]undecane ; Cedryl methyl ether ; (3R,3aS,6S,7R,8aS)- octahydro-6-methoxy-3,6,8,8-tetramethyl-1H-3a,7-methanoazulene
Volatility :

Base
Uses in perfumery :

Cedramber® is used in men's fragrances for woody and ambery accords, and in women's fragrances for some floral notes.
Natural availability :

Cedramber® is not available in its natural state.
Year of discovery :

Discovered in 1966.
Other comments :

With its dry woods note, Cedramber® can be compared with Karanal® and Trimofix®. It remains nevertheless close to the smell of Cedarwood Virginia EO
Price Range :

€€
Stability :

Stable in perfumes and diverse functional bases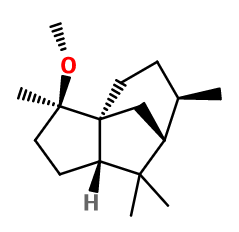 Crédits photo: ScenTree SAS
Molecular formula :

C16H28O

Molecular Weight :

236.4 g/mol

Density :

0.975

Flash Point :

275°F (135°C)

Fusion Point :

Data not available.
Appearance :

Colorless liquid

Log P :

4.6

Boiling Point :

498.2°F (259°C)

Detection Threshold :

Data not available.
Synthesis route :

Cedramber® is synthesized by a nucleophilic substitution of Cedrol, for example by reaction with iodomethane, in the presence of potassium carbonate. Cedrol is obtained by oxidation of Alpha-Cedrene.
Synthesis precursor :

Cedramber® is not a precursor to the synthesis of another compound of olfactory interest.
Isomerism :

Cedramber® contains several asymmetric carbons. However, only a very precise conformation is used in perfumery. Ambroxan®, Muscenone® and Sandela® are the constitutional isomers of Cedramber®. Only Ambroxan® is close by its ambergris aspect. The other two have a very different smell.
EINECS number :

243-384-7

FEMA number :

Data not available.

JECFA number :

Data not available.

FLAVIS number :

Data not available.

Allergens :

This ingredient does not contain any allergen.

IFRA :

This ingredient is not restricted
To learn more about IFRA's standards : https://ifrafragrance.org/safe-use/library
ScenTree is solely responsible for the information provided here.