Anethole
Naturelle - Synthétique
CAS N° :
104-46-1 / 4180-23-8
Herbal > Anisic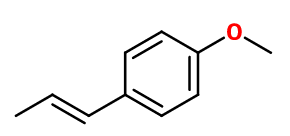 Crédits photo: ScenTree SAS
Other names :

1-methoxy-4-prop-1-enylbenzene ; Acintene O ; Anise camphor ; Isoestragole ; Para-methoxy-beta-methyl styrene ; 4-methoxypropenylbenzene ; Monasirup ; 4-propenyl anisole ; Para-propenyl phenyl methyl ether ; 4-propenylanisole
Volatility :

Head/Heart
Uses in perfumery :

Anethole enhances fruity and floral notes by bringing a greener and more anisic facet.
Natural availability :

Anethole can be obtained by crystallization of Anise EO or Star Anise EO, Sweet Fennel EO or from Turpentine EO, among others. In the case of turpentine, a mixture of Anethole and beta-Caryophyllene is obtained. Then, Anethole is separated from the mixture by crystallization. Another fraction of this extraction contains both Anethole and Estragol. Therefore, a potash treatment is necessary to obtain a mixture of Anethole and alpha-Terpineol. These two molecules are separable by fractional distillation.
Year of discovery :

Data not available.
Other comments :

Anethole is the most common and neutral anisic note, representative of this family.
Price Range :

€€
Stability :

Most of the time, the occurrence of a benzenic cycle in a molecule causes a coloration of this molecule through time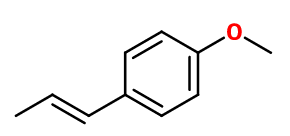 Crédits photo: ScenTree SAS
Molecular formula :

C10H12O

Molecular Weight :

148,2 g/mol

Density :

0,983

Flash Point :

91°C

Fusion Point :

23°C
Appearance :

Colorless liquid

Log P :

Donnée indisponible,

Boiling Point :

236°C

Detection Threshold :

Donnée indisponible.
Synthesis route :

The synthesis of Anethole is made by a Friedel-Crafts reaction using methoxybenzene and propionyl chloride. A hydrogenation followed by an acid treatment allows to obtain Anethole.
Synthesis precursor :

Anethole is a precursor to the synthesis of Anisaldehyde by oxidation.
Isomerism :
EINECS number :

224-052-0

FEMA number :

2086

JECFA number :

217

FLAVIS number :

04.010

Allergens :

This ingredient does not contain any allergen.

IFRA :

This ingredient is not restricted
To learn more about IFRA's standards : https://ifrafragrance.org/safe-use/library
ScenTree is solely responsible for the information provided here.