Alpha-Pinene
Naturelle - Synthétique
CAS N° :
80-56-8
Woody > Coniferous > Fresh Woods > Earthy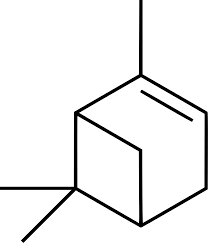 Crédits photo: ScenTree SAS
Other names :

4,7,7-trimethylbicyclo[3.1.1]hept-3-ene ; DL-pin-2(3)-ene ; 2-pinene
Volatility :

Head
Uses in perfumery :

Alpha-Pinene is used in citrus, fruity and coniferous notes for a fresh touch. Allows to increase the neutrality of a natural raw material. Present in most of citrus fruits and conifers.
Natural availability :

Alpha-Pinene is mainly obtained by natural means, by fractional distillation of Turpentine EO of which it is the major compound by far.
Year of discovery :

Data not available.
Other comments :

In comparision with other terpenes as Beta-Pinene or Gamma-Terpinene, Alpha-Pinene has a fresh woody smell but also is very earthy, on the contrary to the zesty note frequently found for terpenes.
Price Range :

€
Stability :

Terpenes tend to polymerize by oxydation. Unstable in very alkaline bases as soap, where its smell is not percievable.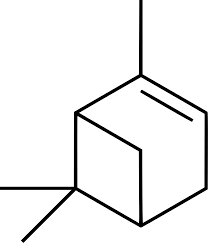 Crédits photo: ScenTree SAS
Molecular formula :

C10H16

Molecular Weight :

136,23 g/mol

Density :

0,858

Flash Point :

31°C

Fusion Point :

-64°C
Appearance :

Colorless liquid

Log P :

4,49

Boiling Point :

156°C

Detection Threshold :

2,5 à 62 ppb selon les personnes (contre 140 ppb pour le Pinène-béta)
Synthesis route :

Alpha-Pinene is a compound mainly obtained with natural means: by fractional distillation of essential oils containing a large amount of it.
Synthesis precursor :

Alpha-Pinene is a precursor to the synthesis of many compounds of olfactory interest. A hydrogenation of Pinene converts it into Pinane which is a precursor to several compounds used in perfumery. It can be isomerized to beta-Pinene with a very good yield, to proceed to the synthesis of other compounds. It also allows to synthesize Terpineol by hydration. Finally, it allows to synthesize Ocimene by pyrolysis.
Isomerism :

Alpha-Pinene is more camphorated and less woody than beta-Pinene. D-Limonene, Myrcene, Ocimene and Terpinene are constitutional isomers of Pinene. They are also terpenes but have very different olfactory characteristics. The common point of terpenes is that they can be synthesized from Isoprene by a Diels-Alder reaction.
EINECS number :

201-291-9

FEMA number :

2902

JECFA number :

1329

FLAVIS number :

01.004

Allergens :

This ingredient does not contain any allergen.

IFRA :

This ingredient is not restricted
To learn more about IFRA's standards : https://ifrafragrance.org/safe-use/library
ScenTree is solely responsible for the information provided here.
Do you sell any of the raw materials? Would you like to let our users know?
Send an email to fournisseurs@scentree.co to learn about our advertising opportunities.