Pino Acetaldehyde
Synthétique
CAS N° :
33885-51-7
Marine > Ozonic > Green > Light Flowers > Coniferous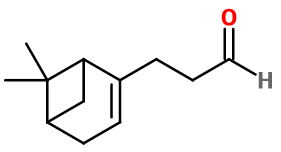 Crédits photo: ScenTree SAS
Other names :

3-(7,7-dimethyl-4-bicyclo[3.1.1]hept-3-enyl)propanal ; Homonopal ; 6,6-dimethyl-2-norpinene propionaldehyde
Volatility :

Heart/Base
Uses in perfumery :

Pino Acetaldehyde gives a green facet to some fruity notes such as pineapple, and gives a ''shiny '' effect in every kind of perfumes.
Natural availability :

Pino Acetaldehyde is not available in its natural state.
Year of discovery :

1957
Other comments :

While having a dominating marine note, Pino Acetaldehyde gets its name from a slight coniferous facet adding to its ozonic volume.
Price Range :

€€€
Stability :

Aldehydes may form diethylacetals in alcoholic perfumes, with no real impact on their smell.
They also may form Schiff bases by reaction with Methyl Anthranilate or other nitrogen molecules such as Indol, among others.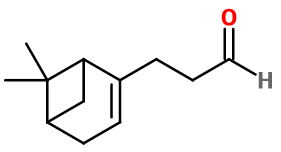 Crédits photo: ScenTree SAS
Molecular formula :

C12H18O

Molecular Weight :

178,27 g/mol

Density :

0,96

Flash Point :

89°C

Fusion Point :

Donnée indisponible.
Appearance :

Viscous yellow liquid

Log P :

3,53

Boiling Point :

Donnée indisponible.

Detection Threshold :

Donnée indisponible.
Synthesis route :

The synthesis of Pino Acetaldehyde starts from alpha-Pinene. An epoxidation reaction between this molecule and peracetic acid gives birth to an intermediary called Pinocarveol, after a rearrangement of the epoxyde. An addition reaction between Pinocarveol and Ethyl Vinyl Ether forms another intermediary, able to undergo a Claisen rearrangement by being heated, giving birth to the final product, Pino Acetaldehyde.
Synthesis precursor :

Pino Acetaldehyde is not a precursor to the synthesis of another compound of olfactory interest.
Isomerism :

Pino Acetaldehyde incudes two asymmetric carbons and one double bond, all included in a bicyclic group. This can only give birth to a unique isomeric form. Then, only one of the Pino Acetaldehyde isomers is used in perfumery. On another hand, Pino Acetaldehyde is a constitutional isomer of Phenoxanol®, even if it does not have the same smell at all.
EINECS number :

251-717-2

FEMA number :

Donnée indisponible.

JECFA number :

Donnée indisponible.

FLAVIS number :

Donnée indisponible.

Allergens :

This ingredient does not contain any allergen.

IFRA :

This ingredient is not restricted
To learn more about IFRA's standards : https://ifrafragrance.org/safe-use/library
ScenTree is solely responsible for the information provided here.
Do you sell any of the raw materials? Would you like to let our users know?
Send an email to fournisseurs@scentree.co to learn about our advertising opportunities.