CAS N° :
313973-37-4
Green > Crisp Green > Tropical Fruits > Juicy Fruits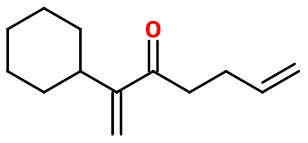 Crédits photo: ScenTree SAS
Other names :

2-Cyclohexyl-1,6-heptadien-3-one ; 2-cyclohexylhepta-1,6-dien-3-one ; Pharaone 10%
Volatility :

Head/Heart
Uses in perfumery :

Pharaone® is useful as a green booster from the top note, with a fruity effect.
Natural availability :

Pharaone® does not exist on a natural state. Thus, it can't be used as extracted from a plant.
Year of discovery :

1999
Other comments :

Synergy with Stemone® in a 1:9 ratio of use, to create a tomato leaf effect.
Price Range :

€€€€€
Stability :

Stable in perfumes and in diverse functional bases, except in very acidic bases (detergents) and strong alkaline bases (liquid bleach).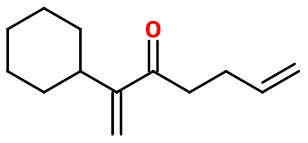 Crédits photo: ScenTree SAS
Molecular formula :

C13H20O

Molecular Weight :

192,3 g/mol

Density :

1,01

Flash Point :

>93°C

Fusion Point :

Donnée indisponible.
Appearance :

Colorless liquid

Log P :

3,5

Boiling Point :

Donnée indisponible.

Detection Threshold :

Donnée indisponible.
Synthesis route :

The Pharaone® synthesis involves a few steps, starting from Cyclohexyl Acetaldehyde. The first step is a Mannich reaction involving formaldehyde in an acidic medium on the basic reagent, to add an alpha-positioned insaturated ramification, according to its cycle. The second step is a Grignard reaction, between the obtained intermediate product and an organomagnesian as butenylmagnesium bromide, to convert the aldehyde into an alcohol and add a carbon chain to the molecule. The last step is an oxydation that can be carried out using manganese oxide, converting the alcohol into a ketone. This step leads to Pharaone®.
Synthesis precursor :

Pharaone® is not used for the synthesis of another molecule of olfactive interest.
Isomerism :

Pharaone® is a constitutional isomer of Alpha-Ionone, Beta-Ionone, Alpha-Damascone® and Beta-Damascone®, but has a much fruitier smell, close to pineapple.
EINECS number :

441-580-9

FEMA number :

Donnée indisponible.

JECFA number :

Donnée indisponible.

FLAVIS number :

Donnée indisponible.

Allergens :

This ingredient does not contain any allergen.

IFRA :

This ingredient is not restricted
To learn more about IFRA's standards : https://ifrafragrance.org/safe-use/library
ScenTree is solely responsible for the information provided here.
Do you sell any of the raw materials? Would you like to let our users know?
Send an email to fournisseurs@scentree.co to learn about our advertising opportunities.