Methyl Salicylate
Natural - Synthetic
CAS N° :
119-36-8
Floral > Orange Blossom > Anthranilic > Medicinal > Smoky Woods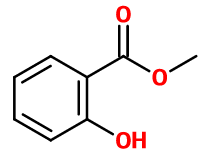 Crédits photo: ScenTree SAS
Other names :

2-carbomethoxyphenol ; Hewedolor ; Linsal ; 2-methoxycarbonyl phenol ; 2-hydroxymethyl benzoate ; Metsal liniment ; Rheumabal ; Rhodiaflor ; Synthetic wintergreen oil
Volatility :

Heart
Uses in perfumery :

Used in tuberose and orange blossom notes, as a solar note modifier, bringing a fruity nuance.
Natural availability :

Methyl Salicylate is the main component of Wintergreen EO. This raw material obtained from wintergreen leaves is used to extract methyl salicylate. Most often, it is natural methyl salicylate that is used in perfumery. It is also found in Tuberose Absolute, Ylang-Ylang Extra EO (and other ylang fractions) and Birch Rectified EO.
Year of discovery :

Data not available.
Other comments :

Methyl Salicylate is a very powerful compound, with a detection threshold of a few tens of ppb (parts per billion). A very low dilution in fragrances is sufficient to detect its impact.
Price Range :

€€
Stability :

Esters may form their corresponding acid through time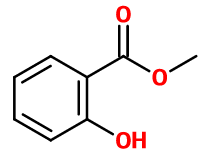 Crédits photo: ScenTree SAS
Molecular formula :

C8H8O3

Molecular Weight :

152.15 g/mol

Density :

1.174

Flash Point :

167°F (75°C)

Fusion Point :

19°F (-7°C)
Appearance :

Colorless liquid

Log P :

Data not available.

Boiling Point :

432°F (222°C)

Detection Threshold :

Data not available.
Synthesis route :

Methyl Salicylate is often obtained on a natural way. However, it can be synthesized by an esterification reaction. This reaction involves salicylic acid with methanol, in the presence of a small amount of a concentrated strong acid such as sulphuric acid. The yield of this reaction can be improved by using salicylic anhydride or chloro-salicylic acid instead of salicylic acid.
Synthesis precursor :

Methyl Salicylate is not a precursor to the synthesis of another compound of olfactory interest.
Isomerism :

Vanillin is a constitutional isomer of Methyl Salicylate. The two structures of these molecules are also quite linked, although Vanillin has an ether group and an aldehyde group instead of an ester group. Its smell is sweeter, less powerful and reminiscent of that of Vanilla Bourbon Absolute.
EINECS number :

204-317-7

FEMA number :

2745

JECFA number :

899

FLAVIS number :

09.749

Allergens :

This ingredient does not contain any allergen.

IFRA :

This ingredient is not restricted
To learn more about IFRA's standards : https://ifrafragrance.org/safe-use/library
ScenTree is solely responsible for the information provided here.