Methyl Benzoate
Naturelle - Synthétique
CAS N° :
93-58-3
Floral > White Flowers > Almondy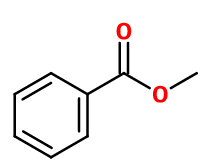 Crédits photo: ScenTree SAS
Other names :

Clorius ; Methyl benzene carboxylate ; Ortho-methyl benzoate ; Niobe oil ; Methyl benzoate
Volatility :

Head/Heart
Uses in perfumery :

Methyl Benzoate is used in white floral notes such as ylang-ylang, jasmine, tuberose, mimosa or leather and cinnamic notes.
Natural availability :

Methyl Benzoate is especially present in Ylang-Ylang Extra EO (and other ylang fractions), from which it can be extracted in its natural state.
Year of discovery :

Data not available.
Other comments :

Methyl Benzoate has a more neutral smell, but much more powerful than Benzyl Benzoate.
Price Range :

€
Stability :

Can form benzoic acid through time.
Most of the time, the occurrence of a benzenic cycle in a molecule causes a coloration of this molecule through time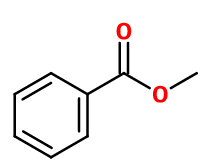 Crédits photo: ScenTree SAS
Molecular formula :

C8H8O2

Molecular Weight :

136,15 g/mol

Density :

1,086

Flash Point :

77°C

Fusion Point :

-15°C
Appearance :

Colorless liquid

Log P :

2,2

Boiling Point :

200°C

Detection Threshold :

110 ppb (0,000011%),
Synthesis route :

The synthesis of Methyl Benzoate can be made by esterification between benzoic acid and methanol, by acid catalysis.
Synthesis precursor :

Methyl Benzoate is a major intermediate in the synthesis of Polyethylene Terephtalate (PET), which is the plastic that we consume every day.
Isomerism :

Phenylacetic Acid and Anisic Aldehyde are constitutional isomers of Methyl Benzoate. Their smell is however very different.
EINECS number :

202-259-7

FEMA number :

2683

JECFA number :

851

FLAVIS number :

09.725

Allergens :

This ingredient does not contain any allergen.

IFRA :

This ingredient is not restricted
To learn more about IFRA's standards : https://ifrafragrance.org/safe-use/library
ScenTree is solely responsible for the information provided here.