Methyl Benzoate
Natural - Synthetic
CAS N° :
93-58-3
Floral > White Flowers > Almondy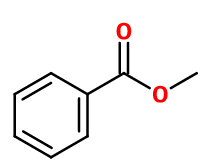 Crédits photo: ScenTree SAS
Other names :

Clorius ; Methyl benzene carboxylate ; Ortho-methyl benzoate ; Niobe oil ; Methyl benzoate
Volatility :

Head/Heart
Uses in perfumery :

Methyl Benzoate is used in white floral notes such as ylang-ylang, jasmine, tuberose, mimosa or leather and cinnamic notes.
Natural availability :

Methyl Benzoate is especially present in Ylang-Ylang Extra EO (and other ylang fractions), from which it can be extracted in its natural state.
Year of discovery :

Data not available.
Other comments :

Methyl Benzoate has a more neutral smell, but much more powerful than Benzyl Benzoate.
Price Range :

€
Stability :

Can form benzoic acid through time.
Most of the time, the occurrence of a benzenic cycle in a molecule causes a coloration of this molecule through time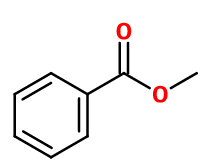 Crédits photo: ScenTree SAS
Molecular formula :

C8H8O2

Molecular Weight :

136.15 g/mol

Density :

1.086

Flash Point :

170.6°F (77°C)

Fusion Point :

5°F (-15°C)
Appearance :

Colorless liquid

Log P :

2.2

Boiling Point :

392°F (200°C)

Detection Threshold :

110 ppb (0.000011%)
Synthesis route :

The synthesis of Methyl Benzoate can be made by esterification between benzoic acid and methanol, by acid catalysis.
Synthesis precursor :

Methyl Benzoate is a major intermediate in the synthesis of Polyethylene Terephtalate (PET), which is the plastic that we consume every day.
Isomerism :

Phenylacetic Acid and Anisic Aldehyde are constitutional isomers of Methyl Benzoate. Their smell is however very different.
EINECS number :

202-259-7

FEMA number :

2683

JECFA number :

851

FLAVIS number :

09.725

Allergens :

This ingredient does not contain any allergen.

IFRA :

This ingredient is not restricted
To learn more about IFRA's standards : https://ifrafragrance.org/safe-use/library
ScenTree is solely responsible for the information provided here.
Do you sell any of the raw materials? Would you like to let our users know?
Send an email to fournisseurs@scentree.co to learn about our advertising opportunities.