Melonal®
Natural - Synthetic
CAS N° :
106-72-9
Fruity > Juicy Fruits > Aquatic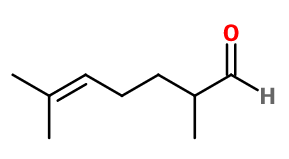 Crédits photo: ScenTree SAS
Other names :

Melonalox® ; Melonal G® ; 2,6-dimethylhept-5-enal ; Elanal ; 2,6-dimethyl-hept-5-en-1-al ; Melolal ; Melolan ; Melomor ; Melon aldehyde ; Melon heptenal ; Melon touch ; Melonalox
Volatility :

Head
Uses in perfumery :

Melonal® is used in all types of perfumes for marine notes, juicy fruits (especially melon and cucumber reproduction), citrus and foral notes.
Natural availability :

Melonal® is present in Ginger EO, from which it can be extracted in very small quantities in its natural state. There are natural qualities from white melon and Petitgrain Bigarade EO, much more expensive but more powerful and fatty.
Year of discovery :

Patent N°4,242,281 (US) published on Oct. 26, 1979 for IFF company
Other comments :

In comparision to Cis-6-Nonenal, Melonal® is more reminiscent of melon, when the other one is of cucumber.
Price Range :

€€
Stability :

Aldehydes may form diethylacetals in alcoholic perfumes, with no real impact on their smell.
Very unstable in acid cleaners. Exclusively stable in shampoo, hair conditioners and in other neutral products.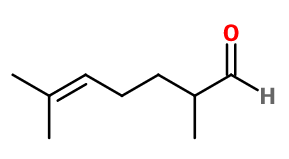 Crédits photo: ScenTree SAS
Molecular formula :

C9H16O

Molecular Weight :

140.23 g/mol

Density :

0.851

Flash Point :

143.6°F (62°C)

Fusion Point :

-4°F (-20°C)
Appearance :

Colorless liquid

Log P :

3.4

Boiling Point :

357.8°F (181°C)

Detection Threshold :

1.3465 ng/l
Synthesis route :

Melonal® is synthesized by a Darzens reaction between 6-methyl-5-hepten-2-one and ethyl chloroacetate. This reaction leads to the formation of a glycidate, which is saponified and decarboxylated to obtain Melonal®.
Synthesis precursor :

Melonal® is likely to form Schiff bases with Methyl Anthranilate or Indole for example. In addition, MethoxyMelonal® is an ether synthesized from Melonal®.
Isomerism :

Melonal® has an asymmetric carbon, which gives rise to two possible enantiomers for this molecule. Only the racemic mixture of the two isomers is used in perfumery. Also, Melonal® is a position isomer of cis-6-Nonenal, which has a fruity note more reminiscent of cucumber, and also used to give a aqueous facet to fruity notes.
EINECS number :

203-427-2

FEMA number :

2389

JECFA number :

349

FLAVIS number :

05.074

Allergens :

This ingredient does not contain any allergen.

IFRA :

This ingredient is not restricted
To learn more about IFRA's standards : https://ifrafragrance.org/safe-use/library
ScenTree is solely responsible for the information provided here.