Frankincense Resinoid
Naturelle
CAS N° :
8016-36-2
Woody > Coniferous > Zesty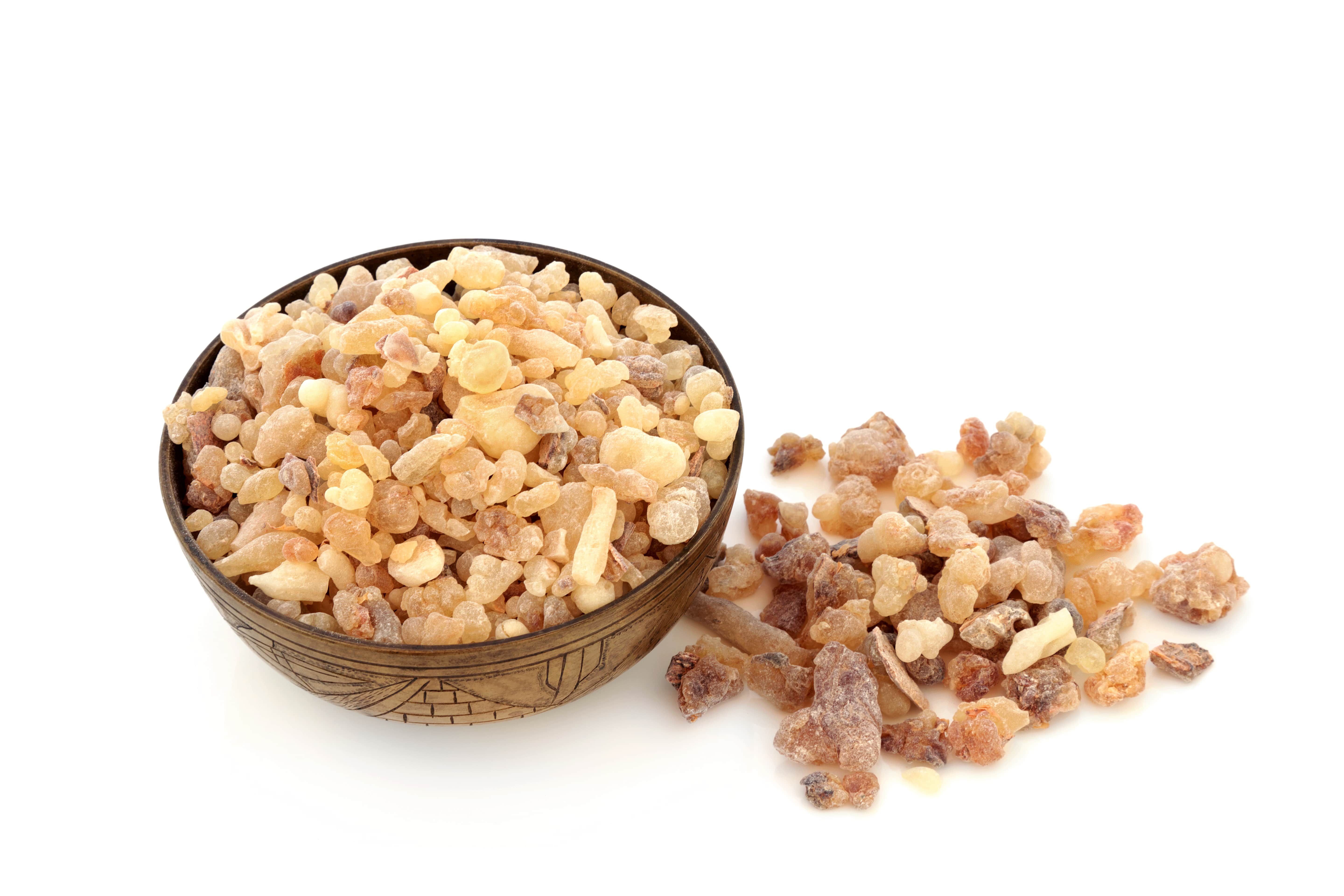 Crédits photo: ScenTree SAS
Latin name :

Boswellia serrata
Botanical profile :

Incense comes from different varieties of trees belonging to the Burserraceae family and the genus Boswellia.
Geographic origin :

Originally from East Africa, incense is a product grown in Somalia, Ethiopia, Sudan and Yemen
Chemotypes :

The different true incenses differ in their composition. There are :
Incensyl Acetate incenses : The Boswellia sacra or ''sheehaz '' incense in Yemen and Oman (grown over 1000 meters above sea level) and Somalian ''beyo '' incense. Both contain less than 40% of α-Pinene and Limonene in their essential oil. Boswellia frereana or ''Maydi '' incense, from Somalia, contains less than 22% of α-Pinene and Sabinene in its essential oil. Boswellia rivae is a D-Limonene incense. Boswellia serrata or salai guggul and Bowellia neglecta or olibanum, are α-Thujene incenses.
Octyl Acetate Incenses : Boswellia papyrifera, from Eritrea and Ethiopia, contain around 50% of this molecule.
In addition, there are ''fake '' incenses. Among these are the Amazon incense or Protium heptaphyllum, the incense of Latin America or Bursera graveolens and the incense of the Mediterranean basin, better known as Styrax (Styrax HE, Styrax Resinoid).
Extraction process :

As for Siam Benzoin Resinoid and Sumatra Benzoin Resinoid, this compound is obtained after pruning the bark of the tree. Only male trees produce the cultivated resin. If the incision is made in summer, the resin is collected in autumn and is called ''white incense '' which is the highest quality. If the incision is made in winter, the harvest is done in spring and the incense, with a lower quality, is called ''red incense ''. Also, the older the tree, the better the resin.
Once collected and dried, the hardened drops are harvested in the following weeks, sorted to remove impurities and treated in different ways: a hydrodistillation will give a colourless to pale yellow essential oil with a balsamic, smoke, green and oriental smell. An extraction made with volatile solvent will, however, yield a brown to red resinoid.
Major Components :

More complex composition than Frankinsence EO
Plotter(s) : Cembrenol
Crédits photo: ScenTree SAS

Uses in perfumery :

Used in ambery perfumes, for its more balsamic note than Frankincense EO, and in small quantity in coniferous and woody notes to bring a natural effect.

Other comments :

Incense can also be called frankincense, or Olibanum for its resin, and is considered the world's oldest perfume as it was really often used in Egyptian mythology as an offering to the gods.
The essential oil is less used than the resinoid which is warmer, round, balsamic and resinous but less fresh, camphorated and spicy.

Volatility :

Heart/Base

Appearance :

Orange to brown paste

Stability :

Solubility issues in perfumes
The terpenes identified in this raw material can polymerize when they are oxidized

Price Range :

€€

Aromatherapy :

Informations provided below are taken from reference works in aromatherapy. They are given for information purposes only and can not constitute medical information, nor engage the responsibility of ScenTree.

Incensyl Acetate incenses are indicated for nervous and immune disorders and for physical fatigue. On the contrary, Octyl Acetate incenses are recommended in case of physical tension and anxiety attacks.
EINECS number :

289-620-2

FEMA number :

2816

Allergens :

IFRA :

This ingredient is not restricted
To learn more about IFRA's standards : https://ifrafragrance.org/safe-use/library
ScenTree is solely responsible for the information provided here.